[FRESH FIGS, MANDALAY BEGONIA]
Yesterday, September 2nd, I picked my first fig of the season, a big, fat, juicy, sweet Green Ischia, also known as Verte. For days, I'd been watching it swell in the tree in the greenhouse. Finally, it was drooping from its stem and the skin gave in readily to my touch, so I picked it and took a bite. Delicious.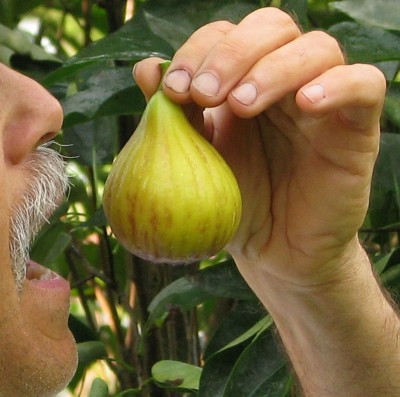 Figs have unique bearing habits, which is why I am usually able to harvest those first Green Ischias a few weeks earlier than I did this year. Some fig trees, Green Ischia being one of them, bear fruit on both last year's stems and on new, growing shoots. The previous year's stems bear the earlier crop, the current shoots bear the later crop. (With some fig varieties, each of these crops looks and tastes different.)
Last winter, a propane glitch let greenhouse temperatures drop well below freezing. A lot of the old stems suffered damage so there was no early crop this year.
Most temperate zone fruits, such as apple, pear, and blueberry, as well as some varieties of figs, bear only on older stems. And still other fig varieties bear only, or mostly, on currently growing shoots.
These accommodating fruiting habits are what make it possible to grow figs, a subtropical fruit, where climates are quite cold. You choose whether you're going to protect the stems by burying them, by wrapping them, by growing the plants in pots which are brought indoors for winter, or by growing the plants in a greenhouse. Then you choose the varieties to grow depending on whether you're going to try to preserve old stems or go for a crop on new shoots.
I've tried all these methods. A greenhouse kept cool, but not frigid, in winter (35 degree) is ideal because you can preserve older stems and you can get a lot of growth, which translates to a lot of figs.
The three other fig varieties in my greenhouse, Brown Turkey, Celeste, and Kadota, bear only on new shoots. So each winter I cut these trees back to stimulate a lot of new, fruit-bearing shoots for the following year. Not too severely, though, or the fruit ripens too late. This pruning works out well because the cut back, leafless plants don't shade the rest of the greenhouse in winter, when lettuce, kale, and other greens growing beneath the dormant trees need all the light they can get.
************************************
One of the most exciting things in this year's gardening is a mere tuft of greenery that sprouted in a 4 inch, square pot. That tuft of greenery originated from some dust-like seeds that I sprinkled on the potting mix early this spring. Those dust-like seeds originated from seed pods of my Mandalay Mandarin hybrid begonia.
I've never grown begonias from seed before, and find it incredible that a whole plant can actually grow from a seed not much larger than a speck of dust. Hence, the special treatment I gave these seeds, beginning with sterilizing the potting mix to kill any weed seeds that would germinate more quickly and inundate the begonias even before they could sprout. After watering the pot, I set it on a capillary mat whose end dipped in a water reservoir. The water gets absorbed into the mat and then into the pot via capillary action, avoiding the need to water from above which would dislodge the tiny seeds.
Finally, I set the pot in dappled shade. I wanted to cover the pot to keep moisture from evaporating too quickly from the surface of the potting mix, where I'd sprinkled the seeds. I also wanted to cover it to keep out weed seeds. A pane of glass would be ideal because begonia, like most small seeds, needs light to germinate. On the other hand, I didn't want the seeds to cook in their mini-greenhouse, so I propped the glass up ¼ of an inch or so above the pot with some wooden spacers.
Lo and behold, what first looked like a green haze has developed into a mound of green sprouts. The next step is to separate them and put each one into its own "cell."
Then things get more exciting, as I wait for blossoms. Mandalay Mandarin is a beauty. Will any of her offspring match the parent? Will any surpass their parent?
*******************************************
On October 4th, from 2-5 pm, I'll be conducting a "Backyard Fruit Growing and Tasting" workshop in my garden. This workshop will cover what fruits are best and easiest to grow, and how to grow them. Everyone will also get to taste delectable fruits such as pawpaws, persimmons, and hardy kiwifruit. Space is limited, and the cost is $30 per person with pre-registration before October 2nd, $40 otherwise. Email, or call 845-255-0417, for more information.
https://leereich.com/wp-content/uploads/2009/09/Eating-Green-Ischia-fig.jpg
1018
1024
Lee A. Reich
https://leereich.com/wp-content/uploads/2022/12/header-home-link-247x54-2.png
Lee A. Reich
2009-09-18 14:06:00
2020-09-14 09:52:21
[FRESH FIGS, MANDALAY BEGONIA]