[commonground fair, eliot coleman, pawpaws]
Along with tens of thousands of other people, I descended this past weekend upon the small town of Unity, Maine, population 555. The attraction that drew all of us to this little town a half hour inland from the coast was the Common Ground Fair, sponsored and on the grounds of MOFGA, the Maine Organic Farming and Gardening Association (www.mofga.org).
The Common Ground Fair is a real old-time country fair focusing on farming, gardening, and rural skills such as timber frame construction, weaving, and tanning hides. No glitzy midway or bumper car rides at this fair. Instead, there are horse-drawn rides and demonstrations such as mowing with oxen, natural hoof care, and border collies herding ducks and sheep. Garden and farming talks covered everything from starting a vegetable garden to growing grain to – my own presentations – landscaping with fruit plants and weedless gardening.
When night falls at the Common Ground Fair, no stings of bare bulbs come to life. Instead, darkness descends, save for the flickering light of a few campfires and or the searching beams from headlamps of those who camp at the site. The sound of crickets is punctuated by occasional sounds of home-made music.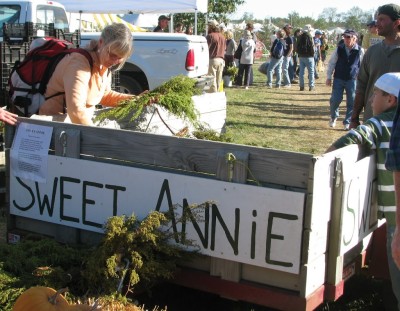 Just about everything at the fair is produced in Maine. You can buy everything from a silky soft alpaca sweater to a buttery croissant (Tuva Bakery's croissants – note the plural — were my favorite food there) to a split ash basket to seed packets and gardening tools from Johnny's Selected Seeds or Fedco. The signature offering at the fair, and the aroma that is most pervasive, is that o f the fragrant herbsweet Annie, bunches of which were available from many farm stands.
***********************************
After a day at the Fair, I wended my way along a back road off a back road on one of the Maine's coastal peninsulas to visit Four Season Farm, the small farm of Elliot Coleman and Barbara Damrosch. Eliot is an innovative farmer perhaps best known for techniques he developed for growing vegetables year 'round in northern climates with minimal artificial heating.
Too many gardeners believe that lack of sunlight limits winter growing in the north. One look at a world globe, though, shows that the latitude even the northern parts of the U.S. is on a par with that of southern Europe. In southern Europe, vegetables that enjoy cool growing conditions are planted in late summer and fall. So all we have to do, as Eliot has shown, is capture some extra heat with various heat-retentive coverings over our plants. Hence the plastic covered tunnels soon to be sprouting in my garden.
This visit was my fourth visit to Eliot's farm, the first one dating way back to June of 1973! Back then, I had just dug my first garden and had entered graduate school to study soil science and horticulture. The visit reminds me of the passage of time; it's been a long row to hoe, a most interesting, pleasurable, and fruitful one.
**************************************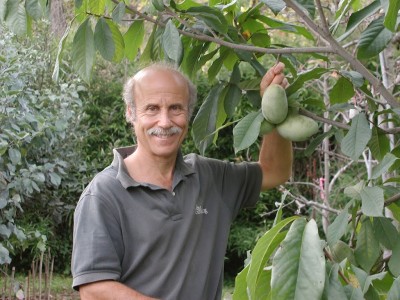 Upon my return from the Common Ground Fair, I was inundated here on my farmden with a crop of "northern bananas." Not really bananas, of course, but pawpaws (Asimina triloba), a cold-hardy fruit with many tropical aspirations (not to be confused with papayas, a truly tropical fruit that sometimes also is called pawpaw).
These northern bananas are about the size and shape of mangoes except that inside is a creamy, pale yellow flesh with flavor and texture reminiscent of banana and vanilla custard along with hints of avocado and mango. The fruits dangle from the branches singly or in clusters of up to nine fruits and they can finish ripening and softening after picking. Like bananas – those tropical aspirations again.
Dropped fruit is usually perfectly ripe and ready to eat. A few fruits dropped before I left for Maine; many more were on the ground upon my return. So into cold storage go fruits I've been picking up from the ground as well as those from trees those whose slight change in color and softening shows they're ready to begin ripening.
Pawpaw is among the easiest of all tree fruit trees to grow. Pretty much the only care my trees get is mulch and removal of suckers that sprout from the spreading roots. And the trees don't even need that, as evidenced by a tree I gave my cousin. Her tree grows in her front lawn and bears good crops without any spraying, pruning, mulching, or anything else.
My cousin constantly gets compliments from passersby on her tree's appearance. That's because pawpaw trees also show their tropical aspirations with large, lush leaves, which look very attractive and maintain their healthy appearance all season long.
All these tropical aspirations are not just show: Pawpaw is a native fruits that is, in fact, the northernmost member of the tropical custard apple family.
https://leereich.com/wp-content/uploads/2009/10/IMG_3119.jpg
797
1024
Lee A. Reich
https://leereich.com/wp-content/uploads/2022/12/header-home-link-247x54-2.png
Lee A. Reich
2009-10-16 10:00:00
2019-10-06 20:14:33
[commonground fair, eliot coleman, pawpaws]