[GARDEN FRESH DINNERS, GOLDEN BANTAM, BRAIDED WEEPING FIG]
My wife commented at dinner the other night that everything we were eating had pretty much the same ingredients. The salad, besides lettuce, parsley, celery, olives, and dressing, had freshly sliced tomatoes, onions (as scallions), and peppers. Skewered and from the grill, were roasted eggplant and, again, tomatoes, onions (bulbs), and peppers. And our home-made focaccio was topped with – you guessed it – tomatoes and onions, in addition to garlic and fresh rosemary.
Not that either of us was complaining; the meal was delicious, and not by some culinary sleight of hand. The good taste came about because most of the meal came from our backyard garden. I had chosen flavorful varieties of each vegetable to grow and they all had been gathered within an hour of their being eaten. In the case of the sweet corn, also part of that dinner and almost every lunch or dinner throughout August and into September, we had the water boiling as we were picking so that the conversion of flavorful sugars to bland starches that occurs as soon as an ear is picked could stopped short.
These foods, day in and day out, don't become tiresome. Earlier in the season, peas typically appeared on the menu almost daily; in a few weeks, the recurring vegetable du jour might be kale. It's all good (and organic, local, sustainable, green, etc.)
**************************************************
If you buy corn at a farmstand or market these days, no need to have boiling water ready, as we did, to keep the kernels flavorsome. Two genes incorporated into modern corn varieties dramatically slow flavor decline. And, they also make modern corns supersweet to begin with.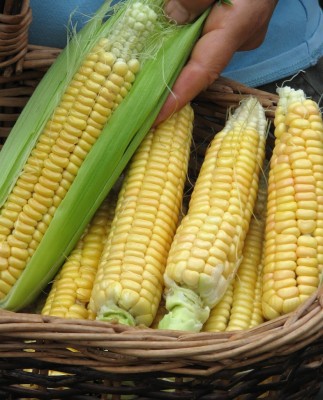 Call me old-fashioned, but my favorite variety of sweet corn, the only variety that I grow, is the old variety Golden Bantam, which lacks those modern corn genes. Although not nearly as sweet as modern hybrids, Golden Bantam has a very rich corny flavor with – to some tastes — just the right amount of sweetness.
Golden Bantam was introduced into the seed trade in 1902 by W. Atlee Burpee Company, who got their original 2 quarts of seed from New York farmer William Coy, who had tasted and enjoyed eating some ears at his cousin's house in Massachusetts. Long story short: Everyone fell in love with Golden Bantam and it became the most popular corn of its day. An article in The Boston Transcript of 1926 states that "In the twenty-four years since [1902] it has made more friends than anyone else could make outside the movies. Which proves that popularity does sometimes follow real merit." It's an odd way to compliment but you get the picture.
Golden Bantam did not rest on its laurels. Breeders sought to continually improve it, leading to other varieties such as Golden Bantam Improved, Early Golden Bantam, Extra Early Golden Bantam, and Golden Cross Bantam (an early hybrid corn that was resistant to Stewart's wilt disease that devastated corn in the 1930s).
Which brings me back to last night's dinner. My Golden Bantam is not one of the hybrid ones, so a bed planted at the same time shouldn't all ripen within a narrow window of time. Yet hot weather has hustled ears in my bed of corn from pre- to post-perfection within a mere week or so. And beds planted almost 2 weeks apart are all ripening together. The upshot is that we're picking an awful lot of sweet corn. They're not all perfect, but, again, they're all good (and organic, local, sustainable, green, etc.).
**************************************************
And now for an update on my dumpster dive of a few weeks ago, at which time I retrieved a forlorn looking, tropical hibiscus with braided trunks from Smith & Hawkens' store dumpster. I repotted the plant when I got it home, kept it in partial shade for a couple of weeks, watered and fed it, and felt confident that the plant would regain or surpass by next year whatever former glory it had.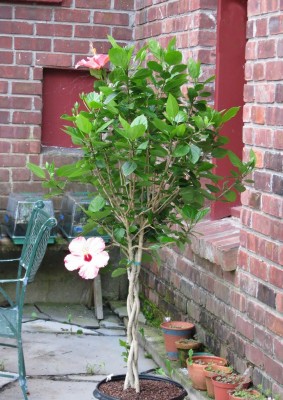 Surprise! My 5-foot-high hibiscus has already grown new, glossy, green leaves and is sporting a few coaster-sized, pink blooms. It's a beauty.
Next year will be even better when a few pinches of new growth create a more bushy head and more, albeit smaller (but more proportional to the size of the head), blooms.
**************************************************
https://leereich.com/wp-content/uploads/2022/12/header-home-link-247x54-2.png
0
0
Lee A. Reich
https://leereich.com/wp-content/uploads/2022/12/header-home-link-247x54-2.png
Lee A. Reich
2009-09-04 21:16:00
2020-09-14 09:51:06
[GARDEN FRESH DINNERS, GOLDEN BANTAM, BRAIDED WEEPING FIG]