Spreading Limestone!
Visiting Clyde (not his real name), a farmer friend, one summer day a few years ago, I came upon him sprinkling some white powder along a row in preparation for planting. In response to my wondering what he was doing, he said he was spreading limestone. I was surprised.
In much of the eastern part of the U.S., unless you grow only native plants, or a rather narrow spectrum of exotic plants, you probably do have to do something to make the soil less acidic. And remember, tomato, apple, peach, marigold, rose, and many other plants in our gardens are exotics. Not only are many soils in the East naturally too acidic for most of what we grow in our gardens and farms, but soils here always are becoming more so.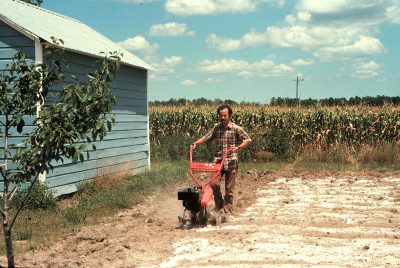 Acid rain is one reason for this, but even before acid rain, the abundant rain that falls in this part of the country has been leaching soils and making them more acidic since time immemorial. As a general rule, areas where rainfall — not necessarily acid rain — exceeds about 30 inches per year, enough base-forming ions such as those of calcium, magnesium, and potassium get leached down and out of the ground to make soils more acidic.
But that's not all. Calcium, magnesium, and potassium are plant nutrients, so harvesting crops takes them off site, increasing soil acidity. Some fertilizers, such as those that contain nitrogen in the form of ammonium, also make soils more acidic.
https://leereich.com/wp-content/uploads/2022/12/header-home-link-247x54-2.png
0
0
Lee Reich
https://leereich.com/wp-content/uploads/2022/12/header-home-link-247x54-2.png
Lee Reich
2022-12-07 06:44:09
2023-01-28 10:11:23
ACID RULES