Too Many Blossoms, Too Many Fruits
I winced with almost every snip of the pruning shears yesterday. My apple trees needed pruning and they were loaded with buds showing pink and about to pop open. Pruning was late this year, not that it would matter to the trees, but I had hoped to get it done a month or more ago, before the vegetable garden started beckoning.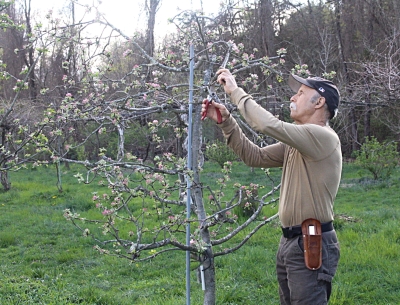 What was making me wince was all the blossoms I was removing, blossoms that, after pollination, could swell into luscious apples. I kept reassuring myself that removing blossoms and, hence, fruit was one of the reasons to prune an apple tree.
Left to its own devices, an apple tree tends to set too many fruits, too many for best quality, that is. With the number of fruits reduced, the tree can Read more
https://leereich.com/wp-content/uploads/2023/04/Apple-blossom-and-spur.jpg
1913
2400
Lee Reich
https://leereich.com/wp-content/uploads/2022/12/header-home-link-247x54-2.png
Lee Reich
2023-04-20 11:24:27
2023-04-20 11:24:27
PRUNING AN APPLE TREE, A NECESSARY EVIL