Biochar vs. Wood Chips
People are funny. Take, for instance, a fellow gardener who, a couple of months ago, shared with me her excitement about a biochar workshop she had attended. "I can't wait to get back into my garden and start making and using biochar," she said.
Biochar, one of gardening's relatively new wunderkind, is what remains after you burn wood with insufficient air. It's charcoal. Stirred into the soil, its myriad nooks and crannies provide an expansive adsorptive surface for microbes and chemicals, natural and otherwise. Biochar, being black, darkens the soil, and dark soil is generally associated with fertility, although that's not always the case. Because biochar is mostly elementary carbon, it resists microbial decomposition, so it's carbon is less apt to end up in the atmosphere as carbon dioxide.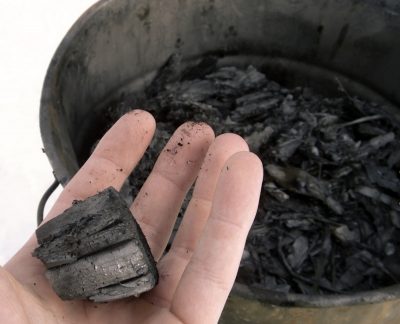 In contrast, when raw wood — wood chips or sawdust, as examples — are added to soil, it feeds microbes and then plants as it decomposes, eventually turning to organic matter, sometimes called humus. Humus is a witch's brew of compounds with beneficial effects on soil's nutritional, biological, and physical properties. So is cooking up a batch of biochar and digging it into your soil better for the soil and really worth the effort?
https://leereich.com/wp-content/uploads/2020/12/Mulching-chestnuts-e1674871811448.jpg
1589
2000
Lee Reich
https://leereich.com/wp-content/uploads/2022/12/header-home-link-247x54-2.png
Lee Reich
2022-12-29 05:19:23
2023-01-28 10:11:46
AND THOREAU ADVISED…