https://leereich.com/wp-content/uploads/2022/12/header-home-link-247x54-2.png
0
0
Lee Reich
https://leereich.com/wp-content/uploads/2022/12/header-home-link-247x54-2.png
Lee Reich
2021-09-02 18:01:15
2021-09-02 18:01:15
UPDATED LINK FOR MY NEW BOOK, "GROWING FIGS IN COLD CLIMATES"
You've caught me at a good time. I'm just now dipping my toes into figdom, and in the next few days expect to be swimming in a sea of fresh, ripe figs.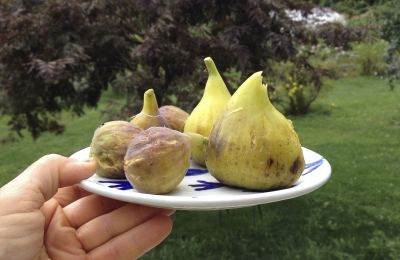 You've never tasted a fresh, ripe fig? Don't judge them by what you might buy in the market. Ripe figs are very perishable so for commercial purposes must be harvested slightly underripe. But figs don't ripen at all after harvest, which is why market figs are but a shadow of the real thing.
Fresh, ripe figs are ubiquitous in California, Florida, and other mild winter regions, so perhaps are ho-hum to those living in those parts. Not here in New York's Hudson Valley though, where winter temperatures dipping to minus 20 degrees Fahrenheit are no surprise!
Five Ways with Figs
I — and you —can grow figs in cold climates by one of five techniques I describe in my new book, hot off the press, Growing Figs in Cold Climates. The easiest way is to just plant the fig in a pot that can bask in sunlight outdoors in summer, and then be moved to a cold (ideally 30-45° F), but not frigid, location for winter. Figs are subtropical, not tropical plants, that actually enjoy this winter rest.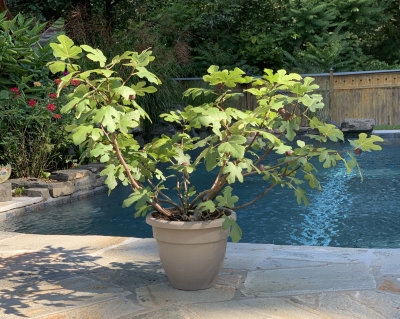 Fortunately, fig is a very adaptable plant. You can lop back its roots each winter, so you can pack new soil around its roots without having to move the plant to a bigger . . . and bigger . . . and bigger pot. You can prune stems more severely that most other fruit plants so it can be maneuvered through doorways for its winter rest. And no need for light in winter. And no pollination is necessary. And pest problems are rare.



Of course, there's lots of wrinkles to getting a fig plant to fruit well in a pot: What's the best potting mix? How do you prune for best yields? When do you move the plant to its winter quarter, to its summer quarters? How do you hold back growth waiting for equable spring weather?
Another method that I describe in my book is planting a fig tree outdoors (yes, here, where winters are frigid) and training it as an espalier. Espalier is the training of a plant's stems, often a fruit plant, to an orderly, usually two dimensional pattern. With fruit plants generally, and figs specifically, the result is more than just good looks; you get to pick lots of very high-quality fruit.


I have trained my plant to the form of an upside down L, consisting of a foot-high, permanent trunk and one permanent, horizontal "arm." (I'm starting another plant, this one trained to a low T, with horizontal arms running in opposite directions.) Each summer vigorous shoots grow from the topside of the arm and bear fruits. New figs are born along the ever elongating shoots, ripening over a long period beginning with the oldest ones, lower down, until shoot growth and fruit ripening is halted by cold weather and short days.
In late fall, I cut every shoot back to its origin on the horizontal arm. Then I insulate the plant beneath a blanket of autumn leaves topped with a tarp to shed water, then perhaps more leaves to hide the tarp from view. Come spring, the cycle of fruiting, pruning, and insulating begins again.
Devil's Details
With any of the methods described in my book, the devil is in the details, matching, for instance a particular method of growing the plant to the pruning technique and a variety's bearing habit.
Speaking of bearing habit, that's another characteristic of figs that make them such adaptable plants, able to be grown for their fruit even far from their native hot, dry, mild winter home in southern Arabia. While a peach tree bears fruits on stems that grew the previous season, and an apple tree usually bears fruit on stems two, three, or more years old, a fig tree might bear fruit on new, growing shoots; on one-year-old stems; or on both, all depending on the variety. So there's not necessarily a need to have stems survive winter in order to get a crop the following season.
A nice offshoot (sic) of this bearing habit, for fig lovers/growers everywhere, is that fig plants are very quick to come into bearing. I've had plants bear the season after I rooted them from cuttings!
And many fig varieties potentially bear two crops each year. First to ripen is the crop borne on one-year-old stems. Later, the so-called main crop is born on new, growing shoots; this is the crop that continues ripening as the shoot grows, until stopped by cold weather and short days.
Why We Lust for Figs
I am among the many people, all over the world, who have wanted to grow figs. Fig was the first fruit I planted many years ago when I began gardening. I was living in Madison, Wisconsin where winter temperatures regularly plummeted to minus 25 degrees Fahrenheit!
Why the lust for figs? Perhaps because fig originated in one of the cradles of civilization, and is one of the oldest of cultivated fruits. It is the most mentioned fruit in the Bible (remember when Adam and Eve "knew that they were naked; and they sewed fig leaves together, and made themselves aprons." It's also one of the two sacred fruits of Islam, and figures prominently in Greek mythology.


Flavor has to figure in: A fully ripe fig is soft and juicy, with a honey sweet, rich flavor. If you already grow figs, I'm hoping my book will help you grow better or more figs, or be able to manage them more easily. If you haven't yet experienced the rewards of growing figs, you have a treat in store for you.

https://leereich.com/wp-content/uploads/2022/12/header-home-link-247x54-2.png
0
0
Lee Reich
https://leereich.com/wp-content/uploads/2022/12/header-home-link-247x54-2.png
Lee Reich
2021-09-01 10:53:11
2021-09-02 17:46:46
AN ANCIENT FRUIT, STILL POPULAR
Ah, the Good Ole' Days
The good ol' days seemed to have had snowier winters, greener grass, and more toothsome apples. Perhaps it was so. One thing those good ol' days definitely did not have was sweeter sweet corn. Only in the past few decades have plant breeders found new genes that shoot the sugar content of sweet corn sky-high.


Papoon corn, the first recorded variety of sweet corn, probably originated as a chance mutation of a single gene of field corn. That gene, the so-called sugary gene (abbreviated su), brought the sugar level in corn from four percent up to ten percent.
We gardeners have tried to make the most of that ten percent ever since the time when 18th century Plymouth, Massachusetts gardeners first grew Papoon corn. We pick an ear just when each kernel is creamy and as sweet as can be. Since sugars in corn start changing to starch as soon as the ear is picked, we eat the corn right out in the garden or else rush it to the kitchen to a pot of already boiling water. In only one day, half that sugar will turn to starch.
Quantum Corn
Sweetness in sweet corn took a quantum leap around the middle of the last century as a result of two genes. The first gene, called the shrunken-2 gene (abbreviated sh2) because of the way the dried kernels shrivel up, pushes the sugar level in corn up to a whopping thirty-seven percent. Not only that, but even two days after picking, that corn still has twenty-nine percent sugar.
The variety Illini Xtra Sweet was the first of the appropriately-named "supersweet" sweet corns. Other varieties with this gene are Early Xtra Sweet, American Dream, and SignatureXR. Kernels of these varieties have thick skins and lack a creamy texture.
The second gene responsible for sweeter sweet corn is the "sugar enhanced gene" (abbreviated se). The se gene is effective only in combination with the su gene of regular sweet corn, and the combination of the two genes results in varying degrees of sweetness, typically about twice as sweet as traditional sweet corn, and tender kernels. 
Still no need to scurry to the kitchen with se varieties, because they also retain their sweetness for a long time, but only because they start out sweeter. Kandy Korn EH, Sugar Buns EH, Silverado, and Snow Queen EH are varieties with the se gene. Many of these varieties have "EH," which stands for "everlasting heritage," in their names.
Juggling genes around to get the best of all worlds resulted in two more hybrid types of corn. "Synergistic" (syn) varieties have some su kernels from traditional sweet corn added to each ear of supersweet (shr) corn, typically about 25%, in an effort to balance sweetness, creaminess of texture, and tenderness. "Augmented sh2" varieties have some se and su genes added to an sh2 parent, basically combining all of the above genes, resulting in more sweetness and less toughness.
In case you're wondering, none of these varieties are necessarily genetically modified (GM). All can be produced with traditional corn breeding techniques.
What's Not to Love
Why doesn't every gardener plant these new sweet corns? (Because of their sweetness and their ability to hang on to it longer after harvest, pretty much every farmer does limit their planting to these newfangled corns these days.) One reason not to plant these varieties is because these varieties need special care. Their seeds are finicky, and will rot just as soon as grow if planted in soils that are too cool, too dry, or too wet. Soil microorganisms also like that extra sweetness. Even after the seeds have been coaxed to germinate, the resulting seedlings often lack vigor. 
The sweeter sweet corns can lose almost all their sweetness if the wrong pollen blows onto their silks. Basically, all of the above varieties need to be isolated from all of the other above varieties except for the combination of traditional (su) varieties and sugar enhanced (se) varieties, although cross-pollination between the latter two will dilute full expression of each variety's characteristics. The only way to minimize contamination between varieties is to separate them by at least 250 feet, or else plant varieties whose maturities differ by more than two weeks.
And what about flavor: Is sweetness all we want from sweet corn? The sweeter sweet corn varieties tend to taste watery and lack a "corny" flavor. If breeders could develop a sweet corn with ninety-five percent sugar, would that be even better? 
Corn with thirty-seven percent sugar tastes too sweet to many gardeners. I remember years ago stopping at the farmstand of one of the large local growers and asking them if they had any Golden Bantam, an old fashioned variety of sweet — not supersweet — corn for sale. The farmer's wife grinned sheepishly and said they grow that variety for themselves. 

A milk chocolate bar, with about fifty percent sugar, isn't all that much sweeter than a supersweet variety of corn, some of which can have as much as 44% sugar.
For some of us, traditional sweet corn varieties — such as, in addition to Golden Bantam, once-popular varieties as Seneca Chief, Stowell's Evergreen, Country Gentleman, and Silver Queen — are as delicious as corn needs to be if they are picked at just the right stage, then eaten within minutes. Ten percent sugar, especially when coupled with with a rich, corny flavor, and some degree of chewiness, is enough for me.
In the past, I've heaped praise on Golden Bantam corn, which was the standard for excellence in sweet corn a hundred or so years ago. I grow only this variety, more specifically "8-row Golden Bantam," which distinguishes it from many Golden Bantam sired hybrids, such as Golden Cross Bantam and Top Cross Bantam.
Last year I feared I hit a bump in the road with Golden Bantam, as one-quarter of my planting yielded nothing worth harvesting due to what may have been northern corn leaf blight. I went ahead and planted 8-row Golden Bantam again this spring and am happy to say that the corn looks fine.
Four 20 by 3 foot beds, with double rows of "hills" 2 feet apart in each row and 3 plants per hill, provides all our household needs for fresh steamed or roasted ears and frozen kernels for winter.
https://leereich.com/wp-content/uploads/2022/12/header-home-link-247x54-2.png
0
0
Lee Reich
https://leereich.com/wp-content/uploads/2022/12/header-home-link-247x54-2.png
Lee Reich
2021-08-26 14:47:30
2021-08-26 14:47:30
SWEET CORN OP-ED