Am I a Hoarder?
I once had what may have been the largest collection of gooseberries in this country east of the Rocky Mountains — four dozen or so. Many more existed and exist in collections across "the pond," especially in Great Britain. That was due, in large part, to the gooseberry contests held annually since the 18th century in the clubrooms of inns, especially in Lancashire, Cheshire and the Midlands. Flavor be damned: rewards went for the largest berries. The gaiety of singing and refreshments at these shows was offset by the solemn weighing of fruits.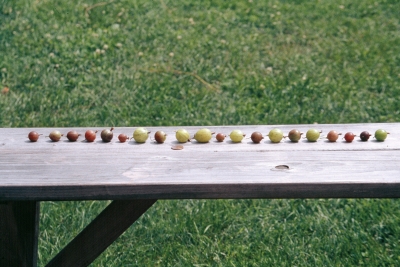 Those winning berries were the handiwork of amateur breeders and some rather esoteric horticulture. Suckling a promising berry, for example, whereby a saucer of water was perched beneath an individual berry throughout its growth, just high enough to wet only its calyx (far end).
The U.S. Government to the Rescue
Gooseberries, while popular in northern Europe, are relatively unknown here in the States. Although gooseberries, along with blueberries, were just beginning to become popular here by the end of the 19th century, blueberry's popularity continued its upward trajectory, while gooseberry's was cut short. Gooseberries were implicated, along with currants, for the spread of white pine blister rust, a disease also of white pines. White pines were an important timber crop; gooseberries were commercially unimportant.
In the early 1900s, the federal government imposed a ban on growing gooseberries and currants. Many Civilian Conservation Corps crews were kept busy in the 1930s ripping wild plants out of forests and cultivated plants from backyard gardens.
The ban was generally ineffective, in part because of all the wild gooseberry and currant hosts for the disease, as well as the long distance — even hundreds of miles — potential spread of its spores. The Federal ban was lifted in 1966. Still, by then two generations of Americans had forgotten about the fruit.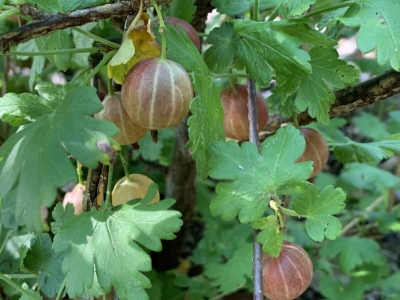 But not me! I nurtured my dozens of varieties and enjoyed the fruit. Not all the fruit, though. Spinefree, for instance, was notable for its lack of spines; the fruit itself was small, tough, and tart. But I was creating a collection, and I kept growing the plants to preserve them in case no one else had them.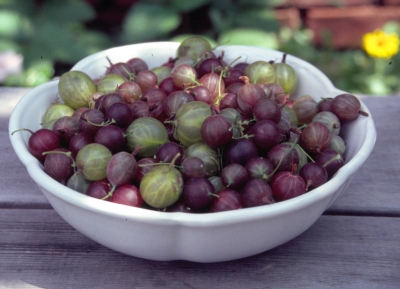 The federal government came to my rescue around 1990 with GRIN, short for the Germplasm Resources Information Network of the US Department of Agriculture. The USDA was putting together sites where many or most of various cultivated plants could be maintained. Corvallis, Oregon became the site designated for the gooseberry collection. I was more than happy to contribute plants or cuttings of gooseberries in my collection.
An Unwelcome Visitor Makes its Appearance
That was the first paring down of my collection. Disease caused the next one, specifically American powdery mildew. I had been spoiled by never having to deal with any pest problems with my gooseberries. In retrospect, it was inevitable, importing so many plants into my garden from fellow enthusiasts, nurseries, and research centers, that some pests would hitchhike in on the plants and find the climate and growing conditions here to their liking.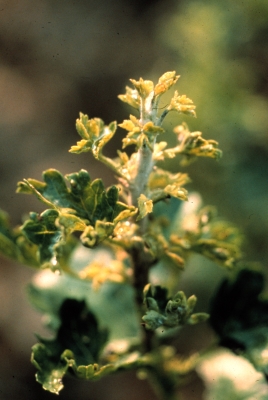 A gooseberry variety's ancestry could be the European species, the American species, or some mix of the two, perhaps also throwing some other species into the mix. American varieties of gooseberry, having evolved with the mildew, can generally fend off American powdery mildew. Not so for most of the European varieties, which is most unfortunate since those are among the best-tasting varieties in my collection. Bite into one of these; the sweet flavor is reminiscent, depending on the variety, of such flavors as that of plum, apricot, or grape.
Rather than bother combatting the mildew with even an organic spray, such as oil or sulfur, I culled these plants from my collection. Too bad, because one of my favorites was the appropriately-named variety Colossal. When I bit down on this berry, the taut skin exploded in my mouth with a sweet ambrosial juice. And to think that so many people think all gooseberries are small, green, and tart! Ha. (Colossal was green, though.)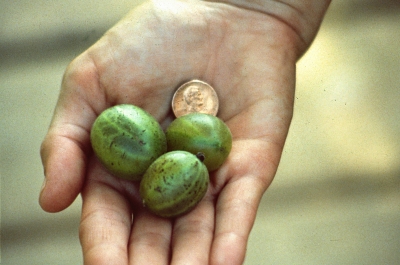 So also out went Whitesmith, Whinham's Industry, Early Sulfur, and Invicta.
What Goes? What Stays?
I'm contemplating the third paring down of my gooseberry collection. The main reason is that my current dozen or so varieties offer me more fruit than I could possibly ever eat. And there are those — Red Jack and Glendale — that taste pretty much the same as each other. And those — Early Sulfur and Oregon Champion — that hardly bear any fruit. And those — Canada 0273, Welcome, and Resistenza — that really don't have top notch flavor. (I'm shedding my emotional attachment to the Welcome gooseberry plant, even though it was my first gooseberry, having been with me for decades and traveling with me as I relocated from Wisconsin to Delaware to Maryland and then to here, New York.)
I suppose making gooseberry jam or the classic British dessert Gooseberry Fool would make good use of all the excess fruits and preserve them for later use. But I've tried making both those delicacies. The muddy purple jam turned out to taste as bad as it looked, and I thankfully can't remember what the Fool tasted like. But it was not good.
So I'm keeping the best of the best that I have here in terms of performance and flavor. And they are . . . (drum roll) . . . Poorman, Chief, Red Jacket, Black Satin, Captivator, and Hinonmakis Yellow. M-mmmmmm.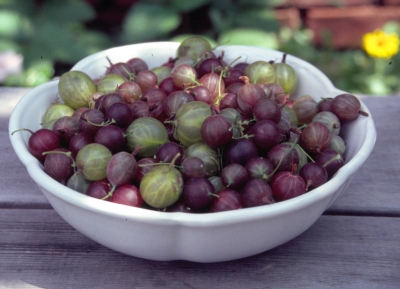 https://leereich.com/wp-content/uploads/2023/02/Ribes-gooseberry-cvs-on-bench.jpg
1600
2400
Lee Reich
https://leereich.com/wp-content/uploads/2022/12/header-home-link-247x54-2.png
Lee Reich
2023-02-08 10:57:01
2023-02-08 11:52:35
TOO MANY GOOSEBERRIES