Home-Grown Oysters
Move over shiitakes, you fancy, reputedly healthful mushrooms offered on supermarket shelves and at farmers' markets at high prices. Make way for oyster mushrooms.
Many of us have chosen to grow shiitakes rather than pay the high prices for them. This means laying in a stock of freshly cut hardwood logs and riddling them with holes that are plugged with inoculated dowels pieces, then sealed with wax. A dose of patience is also needed for home-grown shiitakes, even after going through all that trouble, because a year is needed until first harvest.
My logs, from two and three years ago, yielded mushrooms last spring and autumn. But those logs are sleeping now; what about mushrooms now?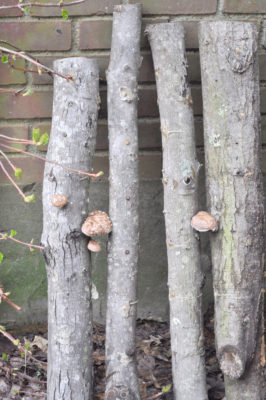 Enter oyster mushrooms. Oyster mushrooms are much more cosmopolitan about their nourishment. And planted now, harvest could begin within a few weeks.
The basics of growing any mushroom are the same. You inoculate a substrate (some material high in cellulose) with purchased or home-grown mushroom spawn. Fungal threads colonize the substrate and then, after a certain amount of time or in response to some stimulation, such as being dunked in water, mushrooms pop out of the surface of the substrate. In between short rests, they'll pop out repeatedly until the substrate is exhausted. Then you start again with a new inoculation.
Toilet Paper Mushrooms!?
A few years ago, I grew oyster mushrooms on nothing more than a fresh roll of toilet paper, which provided a conveniently configured source of cellulose. I got the spawn for inoculation from Field & Forest Products (their TeePee™ kit). All that's needed is to pour boiling water over a roll of fresh toilet paper, let excess water drain off, then put the roll into the plastic bag that is provided.
I inoculated, as directed by filling the center tube with the mushroom spawn and sealed the bag closed. Every once in a while I opened the bag to mist the inside with water, and watch the fungus grow its way out into the paper. After colonization is complete, mushrooms started popping up from the top of the roll.
Okay, my wife did express some aversion to eating food growing out of toilet paper. And the whole setup, admittedly, is not really all that attractive.
Coffee Grounds, Another Substrate
Not to give up on winter mushrooms, I could try growing oyster mushrooms on another readily available substrate: coffee grounds, a waste product from coffee shops, bakeries, and fast food joints. I also remember a previous foray into "espresso mushrooms" a few years ago. The Pohu strain of oyster mushrooms are among the best for coffee grounds.
To inoculate, you just break up and mix the spawn, a compressed mass mixed with sawdust, with (clean) hands and/or a knife in with the coffee grounds. The mixture then goes into a (clean) bucket having drainage holes, which, after a thorough watering, is covered with the plastic bag
After sitting in a bright location and misted daily, the coffee grounds becomes covered with  fuzzy, white fungal threads. Within a few weeks, fat mushrooms swell up from the substrate, ready for harvest when their caps become just concave.
In my previous experience with espresso mushrooms, I remember an invasion of fruit flies having a field day on and in the coffee grounds. Or were they fungus gnats? Avoiding overwatering should keep fungus gnats in check, and fruit fly season is past, so espresso mushrooms are worth another try.
The nice thing about growing oyster mushrooms on coffee grounds is that there's no need to purchase new spawn when production slows. A nice chunk of the exhausted coffee grounds can be used to inoculate some fresh grounds.
The cleaner everything that comes into contact with the spawn and the substrate right from the start, the less chance for contamination and the longer the process can be kept going. It can become an indoor game, to see how many oyster mushroom cycles can be grown before new spawn is needed again. In addition, of course, there'll be some tasty harvests.
An Early Spring, For Shiitakes
Now that I think of it, I could be sitting down to a meal with fresh shiitakes — just fool some logs into thinking it's spring. Which it is, in my greenhouse. I'll move a couple of logs in there, where I'll bet the warmth and high humidity will soon pop out some mushrooms.
https://leereich.com/wp-content/uploads/2022/12/header-home-link-247x54-2.png
0
0
Lee Reich
https://leereich.com/wp-content/uploads/2022/12/header-home-link-247x54-2.png
Lee Reich
2017-03-09 07:48:34
2017-03-09 07:48:34
'SHROOMS