NOTHING TO DO? SEQUESTER CARBON?
Agriculture: Good or Bad for Our Planet?
    I'm enjoying this farmdening interlude, with essentially nothing to do, farmdenwise, for a few weeks. No planting, no pruning, no weeding. Seeds have been ordered and the greenhouse, full of lettuce and kale and chard and other fresh stuff, is cold enough to require no more than weekly waterings, if that. Even then, watering involves nothing more than a quarter turn of the mechanical timer to start water running through the drip irrigation lines.
    I'm going to use this lull as an opportunity to ruminate — on rumens and other relationships between agriculture and global warming.
    Let's get started right away with the rumen, that part of the digestive system of a cow, steer, or other ruminant where cellulose is fermented. With a capacity of more than 50 gallons, a cow's rumen is a veritable factory, one whose byproduct is a lot of gas, more than 200 gallons a day, belched out by the cow. No small thing, that collective burp of agricultural ruminants. It's good for the cow (when you consider the alternative) but not so good for the environment. A significant portion of the effluvia is methane, a carbon compound which is 20 times more heat-trapping in the atmosphere than carbon dioxide.
    Let's leave the cows alone and drop down to the soil. Global warming from the agricultural soils? Yes. Harvest a crop, any crop, and you're removing nutrients from the site. So those nutrients need to be replaced, and that's usually done with fertilizer. Fertilizer, unlike money, does, or can, grow on trees (such as honeylocust and others in the pea family, which garner nitrogen from the air a put it in the soil) but most fertilizer is synthetic. Synthetic fertilizer must be cobbled together using energy derived from fossil fuels, which then release carbon dioxide into the atmosphere.
    That's not all. The soil itself is a large reservoir of carbon tied up in complex, organic compounds as well as in living and dead organisms. Stir that soil up with a plow, a tiller, or a garden fork, and you charge it with oxygen, just what bacteria, fungi, and other microorganisms are waiting for so that they can gobble up that carbon, grow and extract energy, then release carbon dioxide to the atmosphere.
Of Tillage and Biochar
    "Sequestration" isn't only something done with our money by a bunch of mostly men in a big room (Congress) in Washington. It's also done by farmers to save, not money, but carbon. The idea is to keep carbon in the soil rather than letting it "burn" to carbon dioxide, waft into the atmosphere, and contribute to global warming.
    Minimizing, or eliminating, tillage is one way to sequester carbon, something that can be done on a home or small farm scale, even on a large scale. I haven't tilled my garden in over 20 years, and 22 percent of Midwestern farmland is no-till. Minimal tillage or no-till also brings other benefits, such as reduced weeds, a friendlier environment for earthworms and fungi, more efficient plant water use, more organic carbon in the soil for livelier biological activity and improved soil aeration, and, of course, the benefit of not having to till.
    Biochar is another proposed savior in these carbon-burning times. Biochar is, basically, charcoal, which is mixed into the soil. Charcoal starts out as wood which, when left in or on the ground, rots, the carbon within turning to carbon dioxide. Charring the wood drives off much of what makes up wood, leaving only black carbon, a poor food for soil microorganisms, so it does not rot. The wood's carbon has been locked up, sequestered, changed from organic carbon to inorganic, or elemental, carbon.
Hold that Carbon, But Not Too Tightly
    When it comes to agriculture, keeping too tight a grasp on carbon is not a good thing. Agriculture, whether farming or gardening, isn't Nature, or else my garden and yours would be all weeds (some of which would be edible and, hence, technically not "weeds").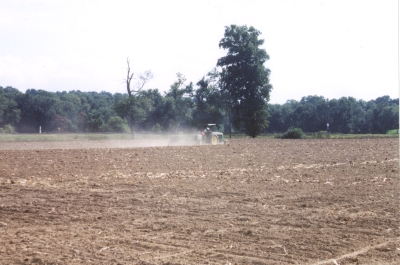 Carbon is energy, fueling growth of fungi, earthworms, and other creatures, and as it's "burned," nutrients associated with it are released into the soil in forms that plants can use. That's a good thing, to a degree. Fermentation microorganisms within cattle rumen make cellulose available for energy and growth even as they release methane. That's also a good thing, to a degree.
    Good gardeners and farmers strike a congenial balance, emulating Nature without giving her a free hand. Too many cows belching methane is not good for the planet. Too much tillage "burning" up soil organic matter and releasing carbon dioxide also is not a good thing.
———————————————————
    A final word, about radishes, for no reason except that I am enjoying them right now. Winter radishes are large, variable in shape and color, and store well. Today, as I've done every few days since late fall, I sink my hand into a cold, wooden box full of wood shavings to pull out yet another Watermelon radish. Sliced open, this variety of winter radish looks much like watermelon and tastes — no, not like watermelon — but crisp, sharp, and slightly sweet. Highly recommended; sow seeds July 15th.
https://leereich.com/wp-content/uploads/2022/12/header-home-link-247x54-2.png
0
0
Lee Reich
https://leereich.com/wp-content/uploads/2022/12/header-home-link-247x54-2.png
Lee Reich
2015-01-22 10:32:49
2015-01-22 10:32:49
NOTHING TO DO? SEQUESTER CARBON?