PRUNING TOOLS & SEED LONGEVITY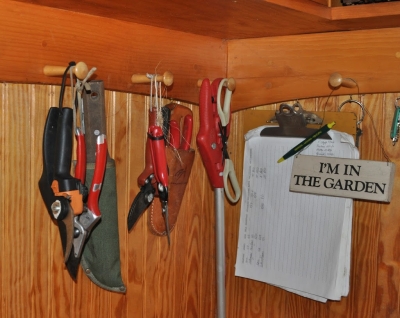 One perk of writing a book about pruning (The Pruning Book) is that I get sent a lot of pruning tools to try out. The pruning shears hang on a row of wooden pegs near my back door, loppers hang on pegs in the garage, and hand saws fill a five gallon bucket. All the big-name brands are represented, from ARS to Bahco to Corona to Felco to Fiskars to Silky. With many models of each brand of tool at my fingertips, it's easy to tell which ones I like the best. They are the ones for which I reach most frequently.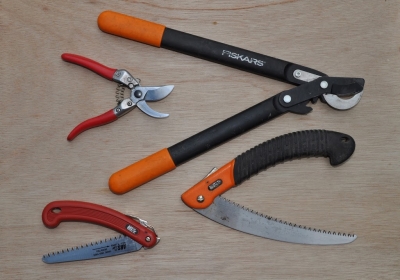 With the coldest part of winter behind us (and even that not very cold), it was time for me start pruning. Today's sunny weather and temperatures in the 40s made pruning an enjoyable excuse to be outdoors. Into my leather holster went an ARS hand pruning shears. Sometimes, if I need to cut stems that are a bit beefier, I'll grab instead my Felco shears. Or, for lighter pruning, my Pica shears. All are excellent although the ARS shears have the edge for me.
Into a back pocket went a small folding hand saw. Many manufacturers make hand saws, and if they have so-called turbo, Japanese, tri-edge, or three-angled blades, they're all equally good.
In my hand, I carried my Fiskars PowerGear® 2 Bypass 17 inch Lopper. What's nice about this tool, which can cut through stems up to an inch or so thick, is their light weight fiberglass composite handles and their gearing mechanism which triples the cutting power.
Carrying those three tools, I could cut just about anything needing to be pruned.
Watching tiny, green leaves push up through the soil never ceases to amaze me, even after watching it happen for decades. And it's all the more amazing with certain seeds, such as onions. It must be that I was scarred years ago by having a difficult time getting them to germinate. Well, I sowed them in the greenhouse a couple of weeks ago and they're up and growing strongly. Most of them, at least.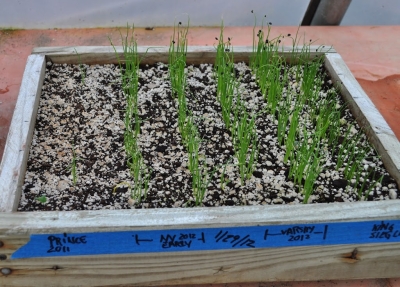 My failure with onions years ago was due to old seed, and old for onion seed means anything more than a year old. Lettuce seed, in contrast, is one of the longest-lived of vegetable seeds and keeps up to 6 years. Here's the life expectancy for other common vegetable seeds: 5 years for cucumber, endive, muskmelon, and radish; 4 years for beet, Brussels sprouts, cabbage, chard, eggplant, kale, mustard, pumpkin, tomato, turnip, and watermelon; 3 years for bean, broccoli, carrot, Chinese cabbage, pea, and spinach; 2 years for sweet corn, leek, okra, and pepper; and, along with onion, 1 year for parsley and parsnip. Under poor storage conditions — moist and warm, like my garage in summer — longevity is decreased.
Still, it seemed like such a shame to throw away good onion seed only a year old. So, in the seed flat a couple of weeks ago, a sowed one row of one-year-old onion seed alongside the rows of fresh onion seeds (and one row of leeks).
Confirmed: onion seed isn't worth sowing after one year. In the seed flat are five neat rows of narrow, green sprouts and one barren row.
Few seeds have as short a life as onion. More astounding is the longevity of some seeds, such as the 10,000 year old lupine seed that germinated after being taken out of a leming burrow in the Yukon permafrost. Just think: This same species was up and growing when humans first crossed the Bering Land Bridge, and saber-toothed cats and woolly mammoths may have brushed up against its leaves. Except that the story of the 10,000 year old lupine seed turned out to be apocryphal, as confirmed by radiocarbon dating.
The record for seed longevity is, in fact, 2,000 years and held by a date palm grown from seed recovered from an ancient fortress in Israel. But a recent discovery, once confirmed, will break that record by a long shot.
A kind of campion seed (Silene stenophylla) found buried, this time in a squirrel burrow, in Siberian tundra could very well be 32,000 years old. The seed has been grown into a charming, white-flowered plant.
Some coaxing was needed to get that original, 32,000 year old seed to sprout. A few cells, removed from the placenta, were grown under sterile conditions on a specially concocted growth medium. Once cells had multiplied sufficiently, the growing medium was altered to induce leaves, stems, and roots, and eventually the plants were robust enough to be planted in soil. The plant flowered and set seed, which germinated readily to produce more seedlings.
I wonder what seed has the shortest longevity. It's not onion. Seeds in the family Tillandsioideae, related to pineapple, probably hold the record, with a viability of 4-6 weeks.
https://leereich.com/wp-content/uploads/2012/03/Pruning-shears-hanging.jpg
815
1024
Lee A. Reich
https://leereich.com/wp-content/uploads/2022/12/header-home-link-247x54-2.png
Lee A. Reich
2012-03-08 18:26:00
2014-07-14 15:18:21
PRUNING TOOLS & SEED LONGEVITY