I broke my own rule and planted tomatoes out in the garden on May 13th. The weather was warm, the tomatoes were ready to pop out of their containers, and the bare ground seemed to cry out to be finally clothed with plants.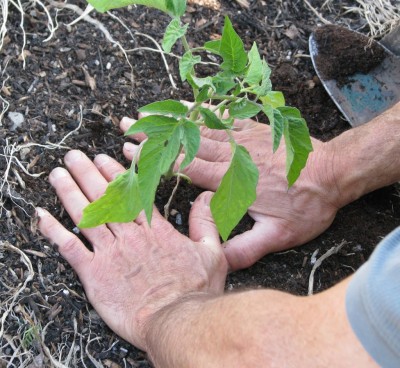 The correct planting date for tomatoes around here is during the last week in May, not May13th. Warm weather before the end of May can be deceiving and often, in the past (last year, for instance, has been followed by night temperatures that plummeted. That's why I try never to go with my gut as to when to plant.
But this year seemed different. The weather had been warm for days, so the ground was warm. The weather report (not that, judging from experience, it could be trusted) didn't call for any day or night temperatures dropping below even 50° F. Rain was forecast for the following few days, which would spare me the need to water the young plants for the few days while their roots had reached out into surrounding soil. And if low temperatures did threaten, I could quickly throw a cover over the plants or, with extended cold weather, quickly erect a wire-hoop supported tunnel of plastic over the beds.
So the tomatoes have been in the ground for a few days. The rain fell — over 2 inches! With cloudy weather, temperatures have remained cool, in the 50s and 60s. Tomatoes are native to moderate elevations in the Andes mountains, so perhaps are enjoying this weather.
As long as I was planting tomatoes, I got on a role and started planting myriad other seedlings – zinnias, cosmos, leeks, morning glories, and sunflowers – in the ground also. Yes, it was raining, which normally makes for goopy soil that if clayey, is unpleasant for planting. Digging around in goopy clay soil also can also ruin its structure so it becomes poorly aerated.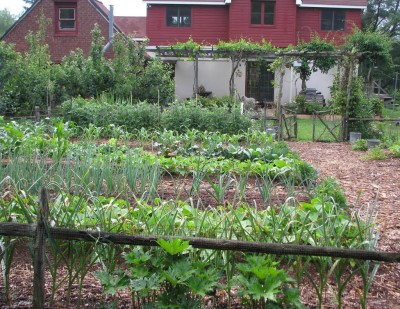 My appreciation for being able to plant in rainy weather sends me back decades, when I visited 90 year old Scott Nearing,
radical
economist
,
political activist
, and advocate of
simple living
, and helped out in his coastal Maine garden. Although I had just begun my agricultural education, academic and hands-on, I marveled at the feel of his soil. Planting and weeding were sheer pleasure, in spite of the rain, in soil of such good tilth. I was told that the soil there used to be a goopy clay but was transformed into that heavenly stuff in which I was working with years of copious additions of compost.
If only, I thought, I could someday have garden soil like that. I do! Every year I have blanketed the ground with an inch or more of compost so that the surface, rain or shine, presents a soft, water absorbent yet workable, nutrient and biologically-rich home to hands and plant roots.
May 16, I mark on my calendar the day that Korean mountain ash (
Sorbus alnifolia
) is blooming. This relatively rare plant is notable for its sprays of clear, white blossoms, for its warm, coppery-bronze autumn leaf color, and for it showy – perhaps the showiest of all plants! – display of small, flaming red berries. The fruits are also a tasty nibble (which warranted the plant a place in my recent book
Landscaping with Fruits
).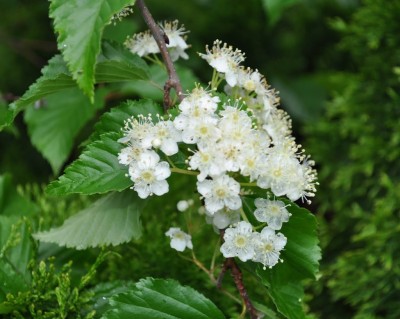 I first met this plant "in person" at the Scott Arboretum at Swarthmore College 5 years ago in October. As I stood there admiring the tree, I nibbled at the fruits. And, of course, I couldn't bring myself to spit out the small seeds. Not because of propriety but I because each seed had such potential.
Long story short: I took the seeds home, mixed them with moist potting soil in a bag which went into my refrigerator for 3 months of stratification (fooling the seeds into thinking winter was over and it was safe to sprout), potted them up, and ended up with 2 good seedlings.
One of my two seedlings is now about 10 feet tall, and that's the one now in flower. What's amazing is that the plant bloomed at such a young age. Ten years might go by before an apple tree makes the physiological transition from juvenility to maturity – that is, reproductive and, hence, flowering age. Grafted trees, which are made by grafting
mature
stems onto rootstocks, bloom much quicker. Ten feet of growth and 5 years till first blossoming from seed is quick.
I'm looking forward to seeing and tasting the fruit of my own Korean mountain ash seedling in October.
https://leereich.com/wp-content/uploads/2011/06/Tomato-2Bplanting-252C-2Bfirming-2Bin.jpg
943
1024
Lee A. Reich
https://leereich.com/wp-content/uploads/2022/12/header-home-link-247x54-2.png
Lee A. Reich
2011-06-04 14:08:00
2014-07-14 15:09:31