Have I ever mentioned my fondness for my scythe? Of course I have, but it bears repeating, now that scything season is upon us. This scythe is not the heavy, picturesque tool with a curved handle that you often see, and is best used, for decorating an outdoor wall. And it's also not a tool best suited to the gentleman farmer with acres of land and oodles of time.
No, the scythe of present interest is a sleek, lightweight, razor sharp – dare I say "modern" – tool that would be useful around many a home and garden. The blade is sharp and light because it's hammered out thinly, rather than stamped out like the one on an old-fashioned scythe. The razor-sharp edge needs to be touched up, which means about 30 seconds of swiping with a whetstone, after about every 15 minutes of use, and a hammering out of the edge every year.
My scythe has a straight snath, or handle, although some modern ones have curved snaths. Making a curved handle would have required more expertise and time than I had available when the curved snath I once had needed replacement. Maple wood, rather than the previous hickory wood, keeps the tool lightweight.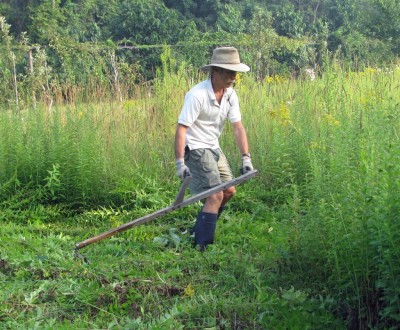 I use my scythe for much the same purpose as most people use a weed whacker. After years of practice, I can trim grass and weeds right up to the bases of trees and rock walls, as well as neaten up the lawn at the edge of the flower and vegetable garden. The sharp blade makes cutting possible even when the tool has to be moved slowly on those occasions where care is needed as to exactly where the end of the blade is – right up against a young tree, for example.
In contrast to the weed whacker, the scythe is quiet and gentle. Earplugs and goggles are unnecessary, and scything can be done any hour of the day without disturbing neighbors. Larger patches of grass can be mowed in weather that would bog down a lawnmower. And finally, scything is a very pleasant (and useful) physical exercise.
(I get my scything goods at www.scythesupply.com.)
The scythe has traditionally been used to mow whole fields of grain or hay. Besides using my scythe in a weed wackeresque manner, I do use it also for a little hay, which I mow from odd corners of the property where I let the grasses and wildflowers grow tall. Last week was my first scything of the season. Depending on rainfall, the grasses and wildflowers might grow tall enough for an addition 2 or 3 mowings.
My hay doesn't feed a flock of cows or sheep or any other domestic animal; it feeds a flock of bacteria, fungi, and other creatures in my compost piles. With air, moisture, and time, this hay, along with kitchen waste, old garden plants, and an occasional load of manure from a local stable, metamorphoses into dark, crumbly compost. The resulting witch's brew of goodies that makes up the compost includes friendly organisms that help feed my plants and fend off plant diseases, as well as compounds that help the ground hold both water and air for plant use.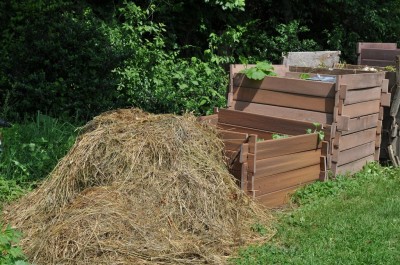 By my calculations, a one-inch depth of ripe compost should provide sufficient nutrition to keep plants happily chugging along for a whole year. A couple of years ago, I finally had enough faith in my calculations to abandon use of any other fertilizer. The compost does it all.
I'm keeping my eyes out for what flowers bloom around Memorial Day because someone I know (more on that some other time) will be getting married next year on Memorial Day and I, of course, will be growing the flowers. There's surely no dearth of flowers – wild and cultivated – this time of year.
First to make their appearance for Memorial day were some alliums (ornamental onions) and, in the garden and in the wild, dame's rocket. As I write, floppy stems of Oriental poppies are spreading their first of many bright red flowers with petals as fine as fairy's shawls, and the pastel blossoms of bearded irises are unfolding in sequence along their upright stems. Columbines, wild and cultivated, are hovering above the plants on thin stalks like butterflies. Stems of cerastrium, aptly known as snow-in-summer, are spilling over a rock wall along with their small, white flowers and hoary leaves, and, at the base of another rock wall, pure yellow Stella d'Oro daylily blossoms open daily. (Individual daylily blossoms bloom for only one day.)
Moist fields are awash with yellow buttercups and pink geraniums stare out from the partially shaded edges of woods. (These geraniums are true geraniums in contrast to the potted plants which, despite being called geraniums, are really pelargoniums.)
Among shrubs, at least two of the viburnums are prominently in bloom: doublefile viburnum (
Viburnum plicatum
) and American cranberrybush (
V. trilobum
), both with starry clusters of white flowers, flowers. In the center of each flower cluster are nonshowy, fertile flowers and around the rim lie sterile flowers that open with broad, showy petals.
One of the best flowers for vases that is now open looks to me like bachelor's buttons. It comes up spontaneously in my garden every year; perhaps it self-seeds, perhaps its a perennial.
I'm not sure what the flower is, but it's clear blue and produced in abundance. If it is a bachelor's button, it was so named because the flowers lasted so long in buttonholes when bachelors when a-courting. So it may be a good cut flower but perhaps not best in a wedding bouquet.
https://leereich.com/wp-content/uploads/2011/06/Scything-252C-2Bbeginning-2Bstroke.jpg
845
1024
Lee A. Reich
https://leereich.com/wp-content/uploads/2022/12/header-home-link-247x54-2.png
Lee A. Reich
2011-06-10 11:03:00
2014-07-14 15:18:52