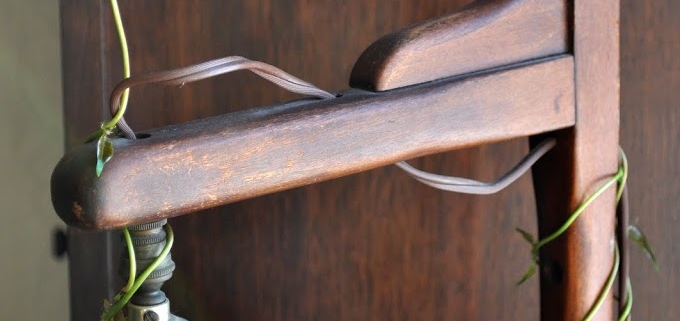 [mandevilla, cottony cushion scale]
Mandevilla Crimson, the vine about which I wrote and raved a couple of months ago, has become a horticultural Dr. Jeckyll and Mr. Hyde. Can this plant really be the same one that was compact and drenched, nonstop, in crimson, flowering funnels such a short while ago?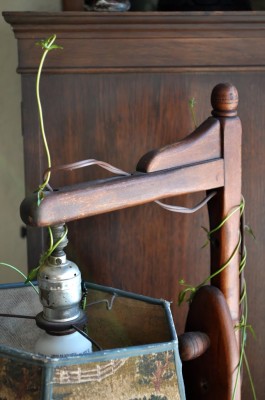 Winter light – that is, the lack of light — has made all the difference. Neither a flower nor the inklings of a flower bud are to be seen anywhere on the plant. And from the once compact mass of foliage has sprung 3 and 4 foot long shoots that are reaching out and grabbing onto a nearby rosemary plant, a lamp, anything around which they can twine. Even the leaves have undergone a transformation, although not nearly as dramatic. They're merely smaller.
Strengthening sun should, hopefully, bring my mandevilla back to its Dr. Jeckyll persona. But what to do about all those willowy shoots? I'd like to cut them back, but according to "manufacturers" directions: "These shoots in the spring and summer will provide the flower buds for the next season flowers so do not remove or cut back hard in the spring." Hmmmm. The manufacturer also states, in apparent contradisciton, that the vine flowers "on every third leaf pair, measured from the base or from the previous flower." So new growth can give rise to new flowers.
My plan is to let those long shoots enjoy themselves and keep growing and building up the plant's energy. Then, when the sun is brighter, perhaps the first day of spring, I'll lop them back and hope for flowers from "every third leaf pair."
I'm not soured on mandevilla crimson, in spite of its dual personality. As compared with past mandevillas, this one's leaves kept greener in winter and the plant, during the growing season, is more florific and compact.
——————————————
Now that I'm looking more closely at my mandevilla, I do see another of its Mr. Hyde side: cottony cushion scale. Sure, it sounds sort of homey and looks soft and white. But it's bad news.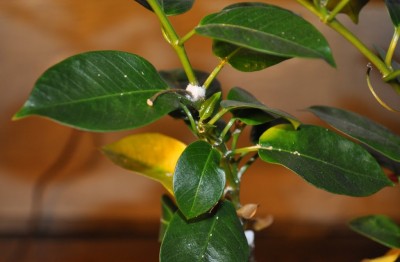 Lurking within those soft, cottony exteriors are insects, ones who have inserted their proboscises into the stems, typically at the junctures where leaves meet stems. Through those proboscises, scale insects are sucking plant sap, the lifeblood of plants. Plants are weakened sometimes to the point of death. To make matters worse, the insects secrete a sticky honeydew which drips all over the place and then, to make matters even worse, becomes colonized by a fungus that makes the honeydew turn sooty black. To make matters worse still, that sooty covering over the leaves cuts down light and, hence, photosynthesis, which is how plants make their food. And as a final badness, that scale can spread to other plants.
Now I'm tempted to toss mandevilla Crimson into my compost pile. I won't, though. I'll start organically, attacking the scale mano-a-mano, rubbing it off by hand. Then, armed with a cotton swab dipped in alcohol, I'll snuff out more of them. Finally, I may take the plant outside on some warmish day and spray it either with "light horticultural oil" or "insecticidal soap," neither of which presents an environmental or health hazard. Most important is to keep up with these treatments because young crawlers and eggs continue to develop and lack that obvious, cottony baggage.
For starters, I am going to go ahead and lop back all those willowy stems. That will make the buggers easier to find and present less stem – and, hence, less buggers – to deal with in the first place.
——————————————-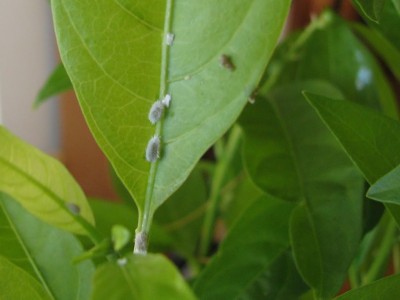 Mandevilla crimson is not the first of my plants to ever get cottony cushion scale. I've had it on jasmine plants and the related armored scales, which look like brown pimples, have attacked my staghorn fern and citrus plants.
Midwinter is when scale insects start to gain steam, and then the race begins, the insects trying to multiply as I try to keep the plants healthy and minimize that sticky goo all over the place. Once the weather warms enough to put the plants outdoors, these insects pretty much disappear. Perhaps they don't like the climate outdoors; perhaps plant sap isn't as tasty to them come spring; perhaps natural predators go to work. Perhaps it's a bit of all these things. What I do know is that the scale insects are no longer a problem – until next year at this time.
https://leereich.com/wp-content/uploads/2010/02/Madevilla-26-lamp.jpg
1024
680
Lee A. Reich
https://leereich.com/wp-content/uploads/2022/12/header-home-link-247x54-2.png
Lee A. Reich
2010-02-01 21:55:00
2019-12-29 05:09:10
[mandevilla, cottony cushion scale]