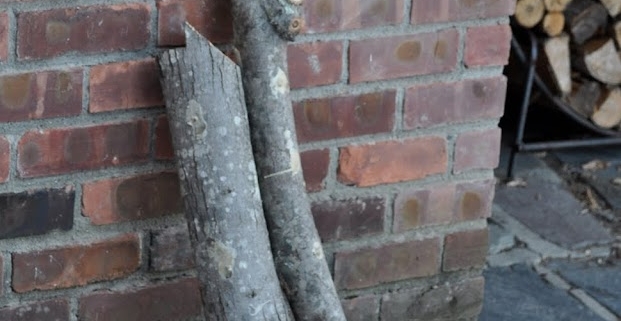 [indoor shiitake,snow on tunnels, endive in tunnels
The 3-foot-long logs resting against the wall near my front door are not for firewood; they're for eating. Not the logs themselves, of course, but what's growing inside of them. As I write and as you read, thread-like fungal mycelia are spreading within, digesting wood and growing bigger and stronger. Sometime next fall, delicious shiitake mushrooms should start popping out of the bark.
Any old rotting log will not produce delicious, or even edible, mushrooms. A couple of weeks ago, I inoculated these logs with spawn of selected strains of shiitake mushrooms. The spawn originally came from www.fieldforest.net, via my friend Bill Munzer, who had some spawn left over from a shiitake growing workshop he recently held. The spawn arrives as inoculated plugs which get hammered into holes drilled into the logs. A coating of wax seals in moisture.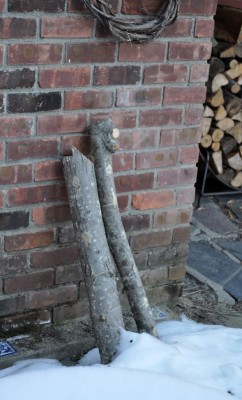 The logs would, in fact, make excellent firewood. Bill uses oak but I only had access to Norway maple, an invasive tree that anyway is better dead than alive. The oaks should pump out mushrooms for a longer period of time, as long as 5 years, but first mushrooms might show up sooner on the maple.
Not much fungal growth occurs during cold weather. On the theory that more growth sooner leads to mushrooms sooner, I'm keeping one of my logs in my cool, damp basement. An occasional dowsing with water will make sure the log stays plump with moisture.
Come spring, Bill will be hosting another shiitake growing workshop and I'm going to inoculate a few more logs. I'll report back on the progress of production from outdoor, fall inoculated logs vs. outdoor, spring inoculated logs vs. basement, fall inoculated logs. Most important is my remembering not to accidentally saw up the logs near my front door for firewood.
*****************************
Those 3-foot-long logs by the door are now nearly buried in snow, as is the rest of the garden. This recent snow has brought my outdoor salad pickings to a screeching halt.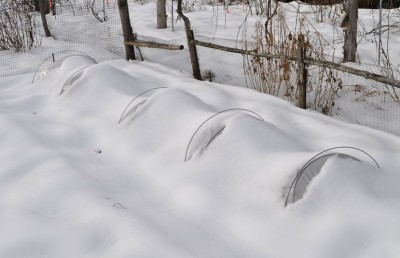 Not that the endive, lettuce, radicchio, radishes, parsley, and arugula protected beneath tunnels of clear plastic are necessarily dead. It's just that I can't get to them. The snow became heavy and later turned to a freezing mist that effectively sealed the edges of the plastic tunnels right to the ground. The weight of snow has bowed down the plastic along the rows between the metal wire supports, making it look like the garden is being colonized by giant, white caterpillars.
It's probably nice and cozy in those tunnels, though, and I am confident that everything is fresh and ready for picking despite December 13th's morning reading of 7 degrees Fahrenheit.
As soon as the snow thaws and some of it begins to melt away, I'll peek beneath the plastic and, if everything inside is cozy, as expected, pull away more snow to make the salad pickings more accessible before truly bone-chilling weather establishes itself for the season.
**********************************
After writing the above, I became more curious about what was happening beneath the plastic so I bundled up and went outside for a look. After breaking chunks off large chunks of snow and tossing them elsewhere in the garden, I finally was able to peel up the plastic and assess the situation.
And since it was nearing supper time, I thought I'd see what kind of salad I could harvest for dinner rather than just taking a peek. Frisée endive was, as expected, turning a bit mushy. Note to myself: Don't grow Frisée again; it doesn't stand up well to cold and it's hard to find dirt and slugs among the frizzy leaves. Escarole (Broad Leaved Batavian endive), on the other hand, looked a little weather-beaten but otherwise fine. The only lettuce still out in the garden is New Red, which stood as proud and as fresh as it would have any day in spring or early fall. Arugula likewise seemed not to acknowledge that temperatures had been and were quite cold.
The salad, supplemented by celery from the greenhouse and whisper thin slices cut from turnips in cold storage in my mud-room, was freshly delicious.
Late news flash: The thermometer on morning of December 18th reads 3 degrees! Outdoor salad pickings? Hmmmm. Perhaps no more.
https://leereich.com/wp-content/uploads/2009/12/shiitake-logs-against-wall.jpg
1024
621
Lee A. Reich
https://leereich.com/wp-content/uploads/2022/12/header-home-link-247x54-2.png
Lee A. Reich
2009-12-31 11:43:00
2019-12-22 20:03:13
[indoor shiitake,snow on tunnels, endive in tunnels