Chickens, Gooseberries, Rose Pruning & Asparagus
Good gardening is not religion. Balancing and rebalancing is what's needed, not the constraints of dogma. You want to garden naturally? Dogma would dictate doing nothing, in which case you wouldn't have a garden. You want to grow only native plants? Then forget about tomatoes, apples, and tulips. And are the plants you want to grow truly native on your "back forty," or down the road where the soil is slightly wetter in summer?
Gooseberries and chickens are what turned my thoughts to the need for balance today. I grow over a dozen varieties of gooseberries, dessert gooseberries with flavors akin to those of grape, plum, and apricot. I also "grow" seven Bantam chickens; they provide decoration, insect control, eggs, and some degree of entertainment.
On the downside, chickens' scratching in my garden beds in search of insects and seeds messes up what could be a very neat and orderly space. (Or, looked at in a more positive light, the chickens' scratching adds a cottage-y blowsiness to the scene.) A four-foot-high fence surrounding the two vegetable gardens keeps out the chickens and those gardens productive. An eighteen-inch-high fence around some other garden areas was meant to, if not to definitely keep the poultry out of those areas, at least to make them do their own balancing, weighing the benefit of entering the fenced area against having to vault the fence. (Clipped wings tips the balance somewhat more in favor of not vaulting the fence, but not enough.)
A few days ago I noticed that this year's especially good crop of gooseberries in the making were no longer in the making; most were gone. Gooseberries rarely suffer from late frost, at least here, so that could not be the reason. Gooseberries do not need cross-pollination, and, anyway, I have plenty of varieties for cross-pollination and bumblebees were buzzing all over the bushes in bloom. So pollination issues could not be the problem either.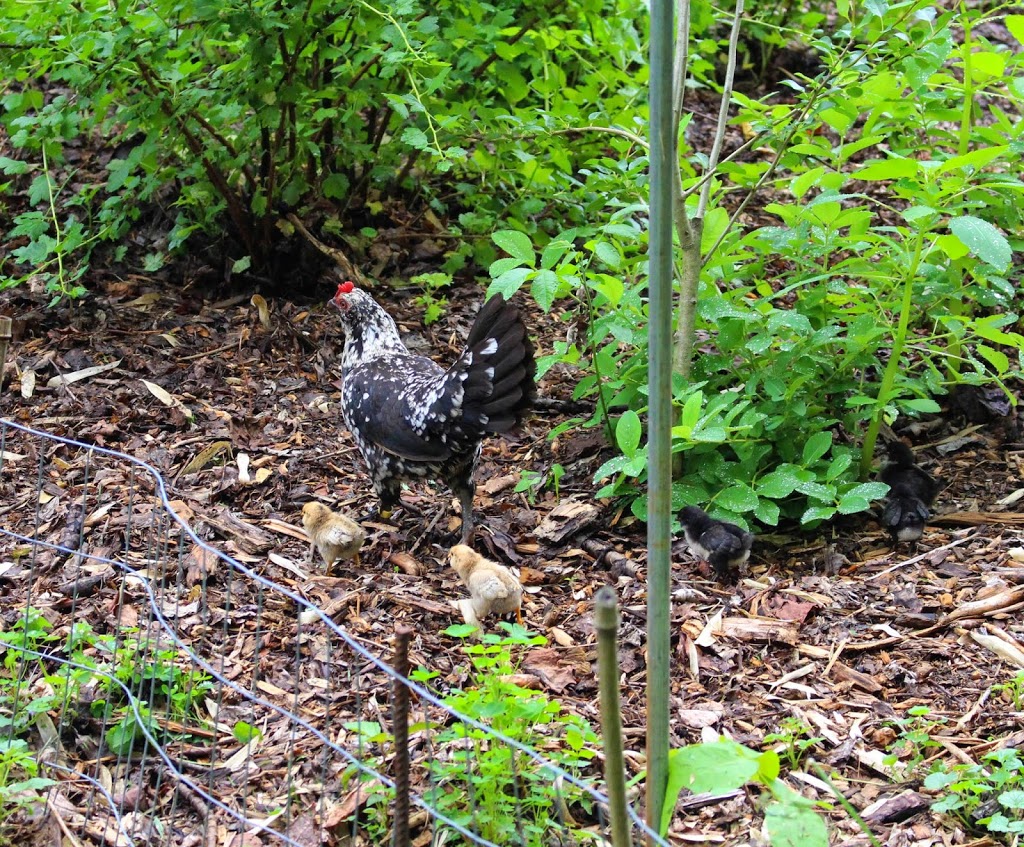 Chicken and young, gooseberry bandits
I lay blame for the paltry crop of gooseberries squarely on the shoulders of the chickens, who have been hopping the low fence around the planting for weeks. Mostly, they seemed to be scratching the ground beneath and around the gooseberry plants but I wouldn't put it past them to help themselves to berries also.
So, what to do? Putting a four-foot-high fence around the gooseberry beds would keep the chickens at bay but, with all the other fencing here, the scene could begin to look like a prison. The chickens could become soup. Or I could allow the chickens their indulgence.
---
Another balancing act: Roses, now in bloom, look great either on the plant or in a vase. For roses that bloom all season long, cutting the blossoms coaxes new ones forth. A win-win situation. Except that towards the end of the season, it's best that plants get ready for winter by slowing down and toughening up. Letting rose blossoms remain on the plant and go on to make fruits — rose hips — helps slow them down.
---
A couple of weeks ago, a visitor looking at my asparagus patch commented on how nice it was that I still had asparagus to harvest. Of course asparagus was still coming on strong; it was only early June!Balance again.
<">Asparagus is a perennial vegetable whose spring spears are fueled by energy stored over winter in the plants' roots. For a good asparagus harvest, the goal is to balance spear harvest against the plants' need to pack away extra energy, created by photosynthesis, in their roots.
Greenery is needed for photosynthesis. If spears are harvested all season long or even for too much of the season, roots are left with insufficient energy reserves going into winter. The result: Plants either die or push forth few, spindly spears the following spring.
So the tack is to harvest for a period in spring short enough to let plants start packing away fuel for winter and the following spring. A good balance is struck by allowing about eight weeks for harvest. After the end of June, spears emerge and then unfold into those ferny fronds which, left untouched until they turn brown in autumn, have time to create energy and store away energy in the roots for another eight weeks of harvest the following year.
With warm weather, asparagus needs to be harvest every couple of days or so. At each harvest, I cut down each and every spear, including those that are too skinny for eating or those that escaped previous harvest and have begun to unfold ferny foliage. Thorough harvest not only keeps new, fat spears emerging but also helps control asparagus beetles. These beetles feed on those early emerging spears. Cut all the spears early in the season and the beetles starve.
If you have never seen the beetles, look on the spears for small, black specks. Those are beetle eggs. Just wipe or hose them off, or go ahead and eat them with the spears. Asparagus and eggs is a classic combination — admittedly, the eggs for this combination are chicken eggs. Perhaps the chickens should stay.
https://leereich.com/wp-content/uploads/2014/06/Chickens-amp-gooseberries.jpg
847
1024
Lee A. Reich
https://leereich.com/wp-content/uploads/2022/12/header-home-link-247x54-2.png
Lee A. Reich
2014-06-26 13:56:00
2014-07-15 16:47:34
Chickens & Gooseberries, A Bad Combination