There's still some space left in the March 10th lecture/workshop in Philadelphia. In the morning, I'll do a photo presentation about pruning fruit trees, shrubs, and vines and then, after lunch, we'll go out into the real world, at the Awbury Arboretum's Agricultural Village. For more information and for registration for FRUIT PRUNING SIMPLIFIED, please visit:
http://chestnuthill.patch.com/events/fruit-pruning-simplified-with-lee-reich
—————————————————
And now, on to what's happening up here on my farmden in New York's Hudson Valley . . .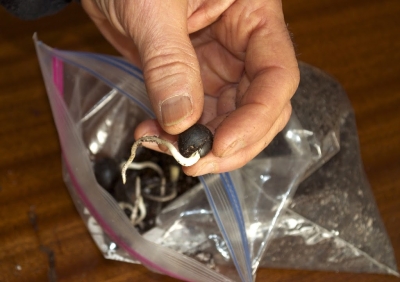 Some inch-long, tapering white sprouts — roots — caused quite a stir today. For me, at least. The first was spotted inside a baggie of moist potting soil that I put in the refrigerator a couple of months ago. That sprout was attached to a marble-sized, brown yellowhorn (Xanthocerus sorbifolia) seed. Giving the bag a shake brought more seeds to the surface, all with emerging sprouts.
The other sprouts were in a Clementine tangerine box that, last summer, I had filled with potting soil in which I had sown seeds of Nanking cherry (Prunus tomentosa). The box sat outside along the north wall of my house until a couple of weeks ago, when I brought it indoors to warmth.
Without doing time in the cold, whether outdoors or in the refrigerator, neither batch of seeds would have sprouted. They needed, as do many tree and shrub seeds, a period of stratification, that is, time kept cool and moist. After a certain number of hours under these conditions, typically about 800 hours for hardy trees and shrubs, the seeds can sprout unless temperatures are too cold.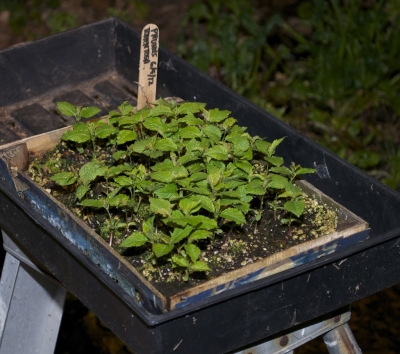 I chose my words carefully when I wrote "cool and moist" above; temperatures below freezing contribute nothing to this so-called cooling "bank." So, outdoors, those Nanking cherry seeds put time into their chilling bank this past autumn and during any of winter's warmer days. If that time hadn't been sufficiently long, hours in the "bank" could have been topped up in late winter and early spring.
A refrigerator is just the right temperature for stratification, too right in some ways. The consistently cool temperatures there fill up the chilling bank hours quickly, so quickly that seeds collected in late summer and stratified there often sprout in December, which means indoor planting at a time when growing conditions are at their worst. That's why my yellowhorn seeds didn't get a good soaking and then tucked into the bag with potting soil in the refrigerator until late November.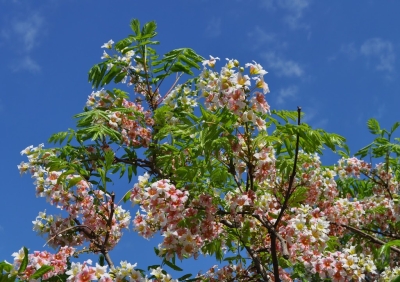 Forget about the nuts; yellowhorn is worth
growing even just for its flowers
The yellowhorn seeds came from a tree I planted many years ago. I planted it because yellowhorn was billed as a small, hardy tree with a nut very similar to a macadamia nut. Yes, the nut does look like a macadamia, inside and out, and it's about the same size. But yellowhorn nuts taste nothing like macadamia nuts. The yellowhorn nuts from my tree are barely edible, roasted or raw.
So why am I so excited about the nuts (seeds) sprouting to give me additional plants. Yellowhorn is a beautiful tree with ferny leaves and drooping, large clusters of purple-throated, white flowers that rival and resemble orchids.
Run-of-the-mill, seedling macadamia nuts are not as tasty as named varieties that have been selected over the years. No named varieties of yellowhorn exist. Perhaps a tasty clone may one day be discovered. Perhaps one of the sprouting seeds in my baggie will grow into a tree that will be the one that bears those tasty nuts.
Nanking cherry is another story, as far as taste. Like yellowhorn, no named varieties of Nanking cherry exist. But I've tasted the fruits, which are small, sweet-tart cherries, from many different plants in many different places over many years, and they all taste good.
Like yellowhorn, Nanking cherry also sports beautiful flowers. Each year in early spring, my Nanking cherry shrubs are drenched in such a profusion of pinkish-white blossoms that you can hardly see the stems.
Nanking cherry stems are hidden behind
the oodles of fruit this plant bears
Another plus for Nanking cherry is that it is pest-resistant and bears reliably every year. The usual pests of cherries — curculios, fruit flies, brown rot, leaf spots, borers — are insignificant on Nanking cherries. And the plant laughs off extremes of temperature: It's native where winter lows plummet to minus 50°F and summer highs soar to 110°F, and even though the plants' blossoms open early in spring, spring frosts are never a problem. Did I mention that the plants also grow quickly and bear young, typically a couple of years after planting?
All this is not to say that Nanking cherry could not be improved. Some selection or breeding could slide flavor more towards the sweeter end of the sweet-tart scale. Larger fruit would be welcome. Mostly, the cherries are a mere one-half to five-eighths inch in diameter.
So last summer I collected seeds from fruits that were a little bigger and a little sweeter than the rest. Those were the seeds I planted in that Clementine tangerine box. I'm going to let these plants grow until warm weather settles in spring, then move them outdoors. In 2 or 3 years, I'll be sampling fruits from these seedlings. I'll save and plant some seeds from shrubs bearing the largest and tastiest fruits, and plant them. Perhaps I'll eventually have some better Nanking cherries. At the very least, I'll have lots of them.
https://leereich.com/wp-content/uploads/2013/02/Yellowhorn-252C-sprouting.jpg
722
1024
Lee A. Reich
https://leereich.com/wp-content/uploads/2022/12/header-home-link-247x54-2.png
Lee A. Reich
2013-02-28 20:30:00
2014-07-14 15:17:22
Excitement in some Seeds