Demise of Miss Kim, Sweet corn
I killed Miss Kim. Sure, she was pretty enough, with lilac purple flowers late each spring. In fact, she is . . . I mean "was" . . . a lilac, although she was Syringa patula, a different species from the common lilac (S. vulgaris).
The very reason that I had planted Miss Kim was because she was different. She would blossom later than the common lilac, extending the season when lilac blossoms and their fragrance could be enjoyed. Later in summer, her leaves were never to be marred by the powdery, white coating — powdery mildew disease — that mars the leaves of common lilacs. And her expected stature, no more than 6 feet high, would be fitting for the bed of perennial flowers that she would call home.
The relationship did not work out. Her later blossoms did not extend the fragrance of lilac blossoms, at least not the heavenly aroma of the common lilac. Miss Kim's flowers were fragrant but not pleasantly so. Her growth was my oversight: I should have predicted that the rich soil here in the Wallkill River floodplain would coax Miss Kim to new and greater proportions, proportions that overpowered other plants in the flowerbed.
So Miss Kim had to go. After an initial effort with shovels, I, along with helpers David and Jonathan, coaxed her root ball out of the ground by adding a tractor and chain to the tool mix. Unfortunately, this is not the ideal time of year to dig up a large shrub for replanting. Miss Kim is now in some kind of lilac heaven.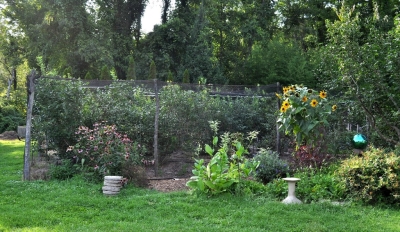 Perennial bed, minus Miss Kim
The spot vacated by Miss Kim is thankfully open now to light and air. A bit too open, in fact, so a replacement shrub is waiting in the wings. My probable choice this time around: summersweet clethra (Clethra alnifolia), a native shrub that is adorned with fragrant, usually white bottlebrushes of blossoms in late July.
Clethra usually grows to about 6 feet tall (uh-oh) but some varieties are more compact. I'll be on the lookout for the variety Hummingbird (to 4 feet tall, heavy flowering, shiny leaves), Pink Spice (dwarf height unspecified, pink blossoms, dark, shiny leaves), or September Beauty (dwarf height unspecified, blossoms 2 weeks later than others).
Clethra grows in sun or shade, in either case needing a moist, acidic soil. My site is in full sun; I'll bank on plenty of mulch for keeping the soil moist.
There's time until fall to ponder which clethra to plant, or even whether to plant something else. Fall is particularly good for planting because the soil is just right for digging, warm and moist, not sodden, and because roots will grow in their new home but shoots won't grow until after they've experienced sufficient cool weather between fall and spring. I like to plant on October 14th.
Not that Walmart is the go to place for good sweet corn but Walmart is, after all, the largest retailer of organic foods. Now there's one more reason to grow your own sweet corn (in addition, of course, to at least some others of your own vegetables and fruits). Soon to be found on Walmart's produce shelves: GMO sweet corn,"GMO" as in "genetically modified" sweet corn.
Most corn grown in this country is, unfortunately, GMO corn. That corn is field corn, destined for animal feed, ethanol, and processed foods. Allergens, pesticide-resistant pests, adverse health effects to animals fed such crops, genetic contamination of wild plants and non-GMO crop plants, questionable economic advantages, increase pesticide use, and a host of unknowns are among the reasons that GMO crops should be banned. (For more, see GMO Myths and Truths at

www.earthopensource.org

.)
Golden Bantam corn, grown here on the farmden
Most aggregious is the fact that GMO foods and feeds are not required to be labeled as such.
I find comfort in knowing that the sweet corn I've been harvesting for the past few weeks, and for a few more to come, is non-GMO (the variety Golden Bantam, the standard of excellence in sweet corn 100 years ago) and has not even been sprayed with pesticides. I plant in "hills" (clumps of 3 plants), 2 rows of hills spaced 2 feet apart in the row down each bed. With good soil and water as needed, a 20 foot long bed yields 90 plus ears of scrumptious, healthful sweet corn.
Do you want to grow fruit but think you don't have room? I'll be giving a workshop "Fruit for Small Gardens," covering the fruits and growing techniques needed to reap delectable rewards from spaces as small as a balcony to as "large" as a small suburban yard. The venue is Stone Barns inn Pocantico Hills, NY on September 22nd from 1-3 pm. For more information, see http://www.stonebarnscenter.org/products/backyard-fruit-for-small-gardens.html
https://leereich.com/wp-content/uploads/2012/09/Killing-Miss-Kim.jpg
713
1024
Lee A. Reich
https://leereich.com/wp-content/uploads/2022/12/header-home-link-247x54-2.png
Lee A. Reich
2012-09-07 20:42:00
2014-07-14 15:17:46
Demise of Miss Kim, Sweet corn