Homegrown Rice & Good Gates
Whoops, I don't know how this post from May jumped up to today. There are some new comments but its otherwise an older post. The newest post is the next one down. Farmdening is easier to figure out than blogging . . .


——————————————————
Here I am swimming in seedlings and small, potted plants sitting on shelves or the ground in the greenhouse, on my picnic table, and on the terrace. Each plant is waiting for the right time to be planted outdoors or to be moved to a bigger pot. So why would I add to the crowd by planting something as absurd as rice? Because rice tastes good and might be fun to grow.

Interest in commercial and home rice cultivation has been on the rise here in the northeast, as attested to by last year's Second Annual Northeast Rice Conference, held in — of all places! — Vermont. No paddies in the works here; I'm parting ways with most of my fellow growers in planning to grow rice under dryland conditions. Growing rice in flooded fields is a useful way to snuff out weeds — dryland weeds, at least — and, more importantly, in northern regions, to moderate temperatures. My planting is going to be very small, measured in square feet, so I can weed by hand, and my site is considerably warmer than anywhere in Vermont.
My planting has to be small because I'm starting with very few seeds: the variety Hayayuki, generally recommended for northern conditions and kindly shared with me by Ben Falk (

www.wholesystemsdesign.com

). Ben has grown rice successfully in paddies he constructed at his homestead in central Vermont.
So today I planted seeds in a seedling tray with inch square cells in each of which I planted one or two seeds. If everything goes as planned, I'll be transplanting in a few weeks (rice does not tolerate any frost, doesn't even like cold weather). Recommended spacing is 12 x 8" for groups of 2 to 3 plants. My garden soil is very rich so I'll plant closer than recommended. Harvest, with a grass shear, should come in September, followed by threshing by smacking pillowcase-filled seed heads against the floor. As for dehulling the rice, that is, removing the hard coat around each kernel . . . I'll cross that bridge when I get to it. Plans for a small-scale dehuller are available at

http://www.savingourseeds.org/pdf/grain_dehuller.pdf

.
Moving on to more practical matters: gates. If good fences make good neighbors, good gates make good invitations to pass through fences. The gate to my south vegetable garden is not good. It was when I built it, the sturdy frame of natural locust wood swinging either open or closed with the mere touch of a finger.
But locust wood is heavy, and that weight was the gate's downfall, literally. For the past few years, the bottom scraped along the ground so that lifting the handle was necessary to open and close it. A five-foot span hinged at one end put too much stress on the wood.
I realized recently that the extra trouble of opening the gate and the possibility of it breaking was was limiting trips into the garden. And there's little worse for a vegetable garden than a disincentive — be it distance, too many weeds, or a gate that's too hard to open — to enter it.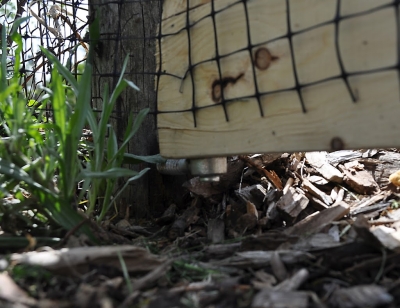 That full five foot breadth was only necessary to let pass the occasional garden cart full of compost to spread over the beds. So why not, methinks, rebuild the gate with two half gates, one of which would be plenty wide for passing through for the almost daily planting, weeding, and/or harvesting. With less leverage, a half-width gate would experience little stress.
The locust branches of the old gate made it charming but slow to build. I built the new gate — a temporary one — out of 2 by 4s. A pintle sticking up into a hole in the bottom and a bolt sliding down through two parallel eye bolts and then into a hole in the top together make a sturdy, effective, and adjustable hinge, so each gate swings easily and, with a spring closure, shuts automatically.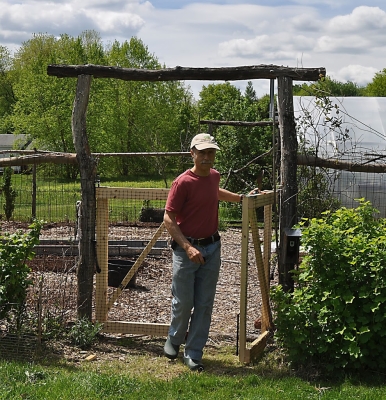 Already, the garden beckons me. Beds have been layered with compost, weeds have been pulled, and today I'll sow popcorn seeds. The only problem is that "temporary" building projects too often morph into things more permanent. Two compliments on the new gate have already started it down that road.
https://leereich.com/wp-content/uploads/2012/07/Seedlings.jpg
680
1024
Lee A. Reich
https://leereich.com/wp-content/uploads/2022/12/header-home-link-247x54-2.png
Lee A. Reich
2012-07-26 15:34:00
2014-07-14 15:17:52
Homegrown Rice & Good Gates