It's a quirk, but it's benign: When a pretty or useful tree presents seed-laden branches to me, I start conjuring up visions of whole new trees. Whole new trees that I can grow. What amazing potential is contained in such small packages! I was presented with some of these packages on a recent hike.
The date was about three weeks ago, before fall color had peaked — except for that of black tupelo (Nyssa sylvatica), also known as black gum or sour gum. This native of eastern U.S. is often planted as an ornamental for its early and striking color. The fluorescent purple, red, and yellow leaves are the first harbingers of autumn color.
Walking along the top of a rocky ridge, I came upon a tupelo lit up for autumn and presenting, within easy reach, many small, dark purple fruits. Although native, tupelo isn't all that common around here, and trees are either male or female, with only females, of course, bearing fruit. So here was an opportunity, one not all that common.
Six tupelo trees for the future
I could leave the flat outside, in which case the seeds will probably sprout around April. In the refrigerator, constantly chilly, the seeds would get off to an earlier start, probably sprouting in February. The seedlings will need transplanting into deeper containers or outdoors soon after sprouting because tupelo tends to develop deep tap roots.
Most trees are very easy to grow from seed. The hard part comes later: Figuring out what to do with all the seedlings.
I recently contended that no one, or I, at least, would eat any other pear as long as ripe Magness pears were available. How foolish. Over 5000 varieties of pears exist. Could anyone really declare that just one of those would surpass so dramatically all others or that an occasional variation in pear flavor would not be welcome?
Fortunately, I had some other home-grown varieties waiting in the wings. Vermont Beauty — sweet and juicy, with a bit of spiciness — was just what was needed to relieve  week after week of sweet and juicy, smooth-flavored Magness. Almost as good was the variety Frederick Clapp although lack of top notch quality in this case could be due do less than perfect harvest timing or after-ripening.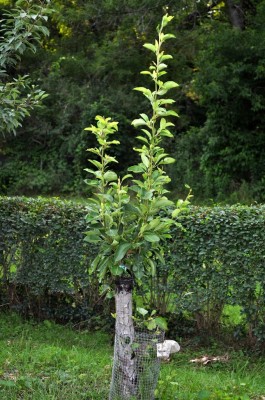 Seckel is one variety that definitely would have measured up against Magness. Unfortunately, the last of the Seckel pears, which are small, sweet, and very spicy, are long gone. Triomphe de Viene pears are still to come, after a few more weeks of refrigeration; this is the trees' first year bearing fruit in my garden.
And next year . . . Beurée d'Amanlis, Aurora, Warren, Tyson, Rescue, and more should bear fruit. I have it on good authority that Flemish Beauty is another pear variety worth adding to the collection.
Where to put all these pear trees? I have two approaches. I lop the top off any pear variety that's not up to snuff and graft onto the remaining stump a new, better variety. Alternatively, I graft a branch of one of these better varieties on a branch of an existing pear tree, so the resulting tree then hosts two — or more — varieties. One old tree hosts about eight varieties.
I highly recommend pears as backyard trees for their spring blossoms, their glossy leaves in summer, their luscious fruits, and — in contrast to apples — their relative freedom from insect and disease problems.
Tree seedlings and pear varieties aren't the only things multiplying around here. Some orchid cactii grow too large so their fleshy stems need to be cut back occasionally. And, the fleshy stems are easy to root. So how could anyone resist making more plants?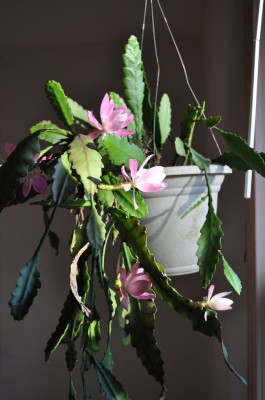 All that's needed is to stick the bottom ends of the stems in potting soil in bright light and then water thoroughly each time the soil gets bone dry. The upshot of this is that now I have many orchid cactii hanging around the house.
The one downside to orchid cactii is that they typically bloom only once a year, usually in early spring. As a capper to our very strange growing season (early warming in spring followed by alternating periods of excessively droughty and excessively rainy weather followed by the torrential rains of hurricane Irene followed by a long, warm autumn), one of my orchid cactii is now in bloom. Jumping on the bandwagon is another plant, a true orchid, Odontoglossum pulchellum. I notice a flower stalk developing. In its 20 years here, blooms always arrived in February.
https://leereich.com/wp-content/uploads/2011/11/Tupelo-for-the-future.jpg
680
1024
Lee A. Reich
https://leereich.com/wp-content/uploads/2022/12/header-home-link-247x54-2.png
Lee A. Reich
2011-11-10 22:53:00
2014-07-25 15:27:21
MULTIPLYING PLANTS