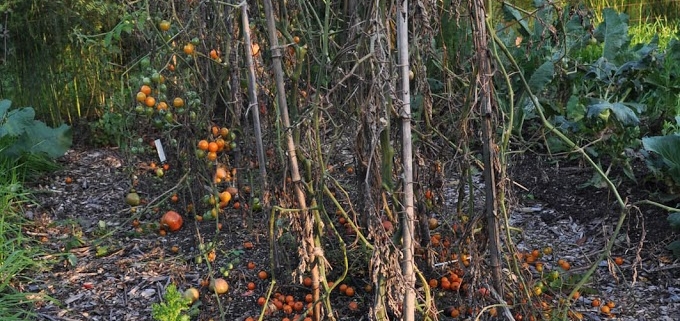 GOODBYE TOMATOES, HELLO NASHI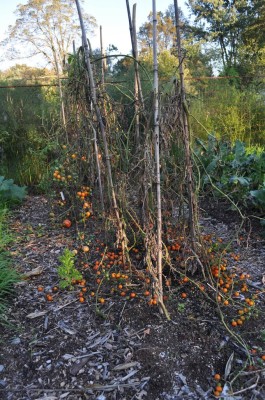 One more sandwich of sliced tomatoes laid on home-made bread and topped with cheddar cheese, warmed until melted, and I'll close the garden gate on fresh tomatoes for the year. Tomato season used to end more dramatically: The four years that I gardened in Wisconsin, a heavy frost would descend on the garden some night about the third week in September. Morning would present a scene of blackened, dead tomato, cucumber, and pepper plants. The same thing used to happen here, only a little later in autumn.
For many years now, killing frosts have arrived late, so much so that cool weather and short days sap the vitality from summer vegetables before frost arrives. The plants peter out so I have no qualms about clearing them out of the garden before they are dead. As a matter of fact, they look so forlorn that I'm anxious to clear them away and neaten up the garden.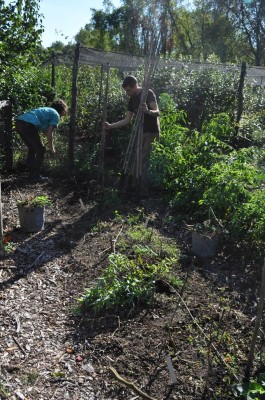 Cleanup is especially important with tomatoes because a few diseases, such as early blight and leaf spot diseases, wait out winter on plant residues to infect next year's plants. I clean up every bit of stem, leaf, and fruit possible, hand picking to begin with and then finally giving each bed a light raking to gather up remaining debris. With a garden knife, I cut into the ground around the base of each plant to make it easy to remove the stem and largest roots. Small roots stay in the soil, decomposing to become humus and to leave behind large and small channels for air and water movement. All that spent tomato stuff goes into the compost pile where time and temperature do their job defusing pathogens and creating rich compost.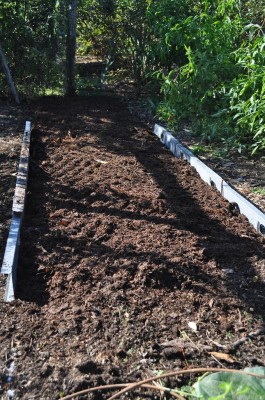 Just to make sure that pest problems are minimized next year, and to enrich and protect the ground, I cover each bed with an inch depth of finished compost from piles built last year.  Disease spores can't get up through the compost blanket. And then, to further limit pest problems, next year's tomatoes go in a different bed than this year's tomatoes.
Even with the declining tomatoes and other summer vegetables, the garden generally doesn't look forlorn. Beds of late green beans, sweet corn, and squash that were cleared, cleaned, and composted over the past few weeks look neat and weed-free. To me, something like the zen gardens at Ryōan-ji, except with compost and straight lines instead of neatly raked gravel. Grassy blades of oats are sprouting with all the youthful exuberance of spring in beds that were readied before the end of September. And long before summer vegetables started to wane, I snuck autumn vegetables into the garden, so some beds are now lush with radishes, arugula, lettuce, cabbage, and other greenery that thoroughly enjoys this cool, wet weather.
Butterscotch on a tree, that's what Chojuro pear tastes like. Juicy butterscotch, because an explosion of juice fills your mouth with each bite,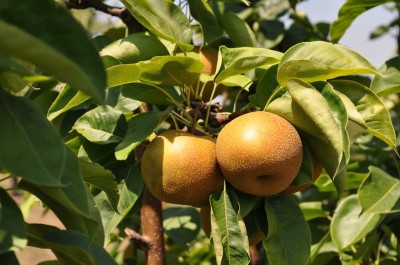 Chojuro is one of a few Asian pears, also called nashi, that I grow; it's my favorite as far as productivity and flavor, my others being Yoinashi, Yakumo, and Seuri-Li. Because they are generally round and crunchy, Asian pears are also sometimes called apple pears or salad pears. They have a long history in Asia, and over a thousand varieties exist.
My pears were planted 10 years ago, actually not planted but grafted on existing rootstocks to replace other, less satisfactory varieties. The rootstocks are dwarfing and the plan was to train them as a row of espaliers en arcure, that is with successive tiers of branches gently arching in curves to meet those of neighboring pear plants, all sitting in a row atop a low wall. But deer soon discovered the plants, which became a smorgasbord for which the deer didn't even have to bend down to enjoy.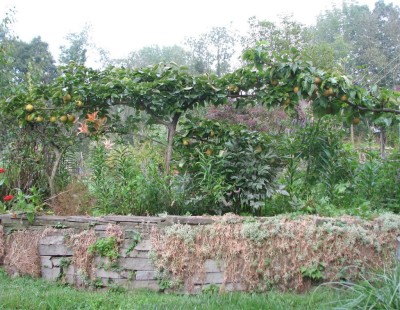 The deer problem was eventually solved but the plants were not en arcure anymore. I could have lopped everything back to just above the grafts and started again but lacked the heart to do it because the trees were, by then, bearing fruits. So now I have an arcure-esque espaliers laden with fruit. And especially laden is the Chojuro tree, every year.
Asian pears differ from the more common European pears in a number of ways. They are generally easier to grow. With large, healthy leaves, they tend to be more decorative. They bear more heavily and at a younger age, so much so that you have to be careful not to let plants on dwarfing rootstocks bear too much too young and runt out. And while European pears must be harvested before they are ripe, then ripened off the trees, Asian pears don't taste at their best until they are dead ripe on the tree. 
Even then, they don't taste at their very best if the trees overbear, which they are wont to do. So beginning in June, and a few more times through summer, I kept pinching off enough fruits so that eventually remaining fruits were a couple of inches apart. It was worth it for the crunchy, juice-laden, butterscotch-flavored Chojuros.
https://leereich.com/wp-content/uploads/2011/10/Tomato-bed1-252C-pre-cleanup.jpg
1024
680
Lee A. Reich
https://leereich.com/wp-content/uploads/2022/12/header-home-link-247x54-2.png
Lee A. Reich
2011-10-21 09:44:00
2014-07-25 15:31:47
GOODBYE TOMATOES, HELLO NASHI