[inter and succession planting, nasturtium, mulberries]
In 1810, English essayist Charles Lamb wrote: "Nothing puzzles me more than time and space; and yet nothing troubles me less, as I never think of them." Obviously, Charles was not a gardener. I spend a lot of time thinking about time and space in the garden, and out there this morning was particularly proud of one result of that "trouble."
That source of pride is a bed 20 feet long by 3 feet wide that's overbrimming with luscious greenery. I planted it back in April, 4 rows, one of radishes, one of mustard and arugula, and two of various varieties of leaf lettuce. The radishes are long gone and the mustard and arugula are just now going to seed, but the lettuces have a little more time left in them. The bed is packed so full of garden plants that hardly a weed peeks through anywhere.
As the lettuce passes its prime, all will not be over for that bed. I could wait, pull the lettuce, and then plant a later crop of, say, bush beans or endive. But, with a nod not to Mr. Lamb, I meshed space and time 3 weeks ago, removed a clump of plants every 2 feet down 2 rows in the bed, and planted sweet corn. Now, the sweet corn is looking tall among the waning other plants and, in a few weeks, the bed will be lush with only corn stalks.
The growing season here isn't long enough to squeeze another crop in after the sweet corn in harvested in September. But maybe, if I plant some quick-maturing radishes in amongst the stalks in the beginning of September . . .
Plants that are too easy to grow are sometimes not given their due, and nasturtiums are, I think, one such plant. Wherever you poke the pea-size seed into the ground, you get, just a few weeks later, a nice, sprawling patch of round, blue-green leaves and colorful flowers. That's what I do here and there in the bed near my terrace and near my garden gates every year.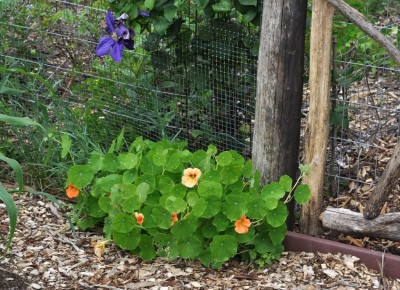 That small amount of effort gets me not only beauty but also something tasty to eat. The leaves and flowers are edible. Most edible flowers have a subtle flavor, if that; nasturtiums have a strong – a nice, zippy – flavor. The name nasturtium means "nose twist," sort of like what horseradish does, a relative. Nasturtium flavor is more mellow and the plant doesn't spread, at least not year after year. Nasturtium's bright color also adds visual appeal to any salad or spread.
Mulberry is another plant that's not usually given its due. Sure, wild plants abound; except in deep woods, I could probably find at least one mulberry tree within a quarter of a mile from wherever you put me. (It's the second most common "weed" tree in New York City.) And yes, the fruit is usually very sweet but lacking in character. But nobody's knocking marshmallows, which are even sweeter.
Not all mulberries taste the same. Check out the taste of a number of wild ones and they'll run the spectrum from almost pure sweetness to those with a bit of tang. They also vary in size. Both size and sweetness depend also on growing conditions.
Named varieties of mulberries, with bigger and/or better tasting fruits, exist although they are not well-known. I grow four of them. Illinois Everbearing has been around for over a half a century and is one of the best. I have on good authority that Oscar (a funny name for a mulberry) and Kokuso taste very good, and ordered (from
www.whitmanfarms.com
) a plant of each this past spring. I also ordered a Gerardi Dwarf tree, now with about a dozen fruits ripening on 2 foot tall plant still in its pot.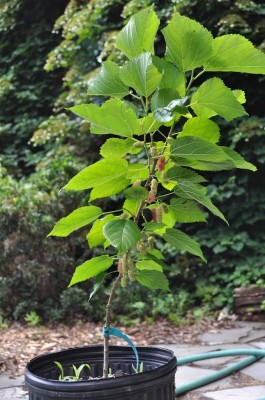 The flavor of Gerardi Dwarf fruits are said to taste almost as good as those of yet another mulberry, the black mulberry (
Morus nigra
) which, in my opinion and that of many other fruit lovers, may be the best-tasting of all fruits. Lest you believe that all black-colored wild mulberries you've seen are
Morus nigra
, they're not. Fruit color and species names of mulberries are unrelated. Illinois Everbearing, which is a natural hybrid of white mulberry (
M. alba
), from eastern Asia, and our native red mulberry (
Morus rubra
), bears jet black fruits. (For more on mulberries, see my book
Uncommon Fruits for Every Garden
.)
Black mulberry is native to the mild climates of southwestern Asia and grows well only in Mediterranean climates. Unless, that is, it's in a pot, which is how I grow black mulberry, bringing it down in winter to my cool basement, along with figs, pomegranates, and other fruits native to southwestern Asia.
I'm looking forward to tasting Gerardi Dwarf mulberries, which should make a cold-hardy, decorative plant that, like other mulberries, is easy to grow.
https://leereich.com/wp-content/uploads/2011/07/Nasturtium-2Bat-2Bgarden-2Bgate.jpg
743
1024
Lee A. Reich
https://leereich.com/wp-content/uploads/2022/12/header-home-link-247x54-2.png
Lee A. Reich
2011-07-15 11:21:00
2021-06-20 15:01:56
[inter and succession planting, nasturtium, mulberries]