[kiwiberry, corn 3, D. Austin rose]
A trip through Pennsylvania last week, on the way back from a lecture at the Millersville Native Plant Symposium, finally afforded me a convenient opportunity to stop in for a visit with David Jackson at KiwiBerry Organics (www.kiwiberry.com). David was not easy to find, as he's nestled deep in the hills and back roads of rural Pennsylvania near Danville. Finally, after driving past acres and acres of forest alternating with corn and soybean fields, I came upon a hillside beribboned with neatly trellised hardy kiwi plants (Actinidia arguta).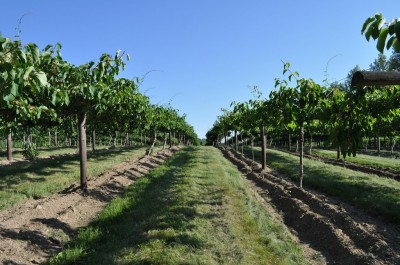 What's a hardy kiwi, you wonder? These fruits are cousin to our fuzzy supermarket kiwifruits, with a few notable differences. Hardy kiwifruits – or "kiwiberries," as David and his partner Holly Laubach call them – are grape-sized and have smooth skins, so can be popped into your mouth just like grapes. Inside, they're green with black seeds, just like fuzzy kiwifruits, except that hardy kiwifruits' flavor is much sweeter and more aromatic. (I know this from what others say and because I have about a dozen fruiting vines myself; I devoted a chapter to kiwifruits in my book
Uncommon Fruits for Every Garden, available at https://leereich.com/.
)
What really dazzled me on this visit was the beauty of the plants and the care that is lavished on each one of them. The beauty was no surprise because hardy kiwifruits, since their introduction into North America from Asia at the end of the 19th century, have been grown mostly as ornamental vines for clothing arbors and pergolas.
Lavish care further enhanced Kiwiberry Organics plants plants' natural beauty, starting right at ground level with the neat, weed-free strips in which the plants were growing. Weeds were not kept at bay with herbicides, but with careful use of a grape hoe, pulled by a tractor, that rolls over the soil to bury weeds in the soil ridges beneath the plants. From the ground, each plant rose as a sturdy trunk up the the center of a T-trellis whose 8-foot-wide arms are joined by wires running down the length of the trellis. At trellis height, the trunks branch into two permanent arms that run along and are supported by the middle wire. Fruiting arms growing off the two fruiting arms reach perpendicularly out to the outside wires.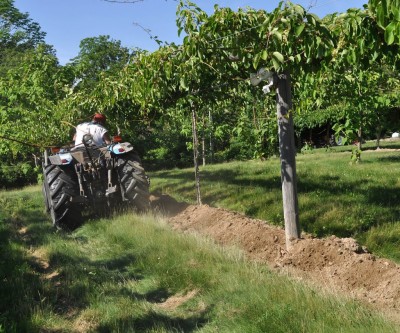 I've tasted David's kiwiberries and can attest to their especially fine flavor, the result of careful training and pruning that lets the plants bathe in sunlight. Excess growth is pruned off throughout the growing season to reduce congestion. Fruiting shoots draping down over the ends of the outside wires are repeatedly shortened. Stems that will yield fruit-bearing shoots for the following year are positioned in readiness. All this pruning is in addition to dormant pruning in winter.
My only regret with this visit was that the plants were in flower – very pretty, but I would rather have been tasting fruit.
June 6th: My third planting of sweet corn went into the ground this morning. Rumor has it that backyard gardens are too small to make sweet corn worth planting, especially when supersweet corn is so available at farmstands and markets. Not so!
This latest corn planting went in between lettuce plants in a bed that has been home to 4 rows of early season salad fixings, including arugula, radishes, mustard, erba stella, and 4 varieties of lettuce. That bed now yields more than can be eaten on a daily basis, plus I have other beds of greenery.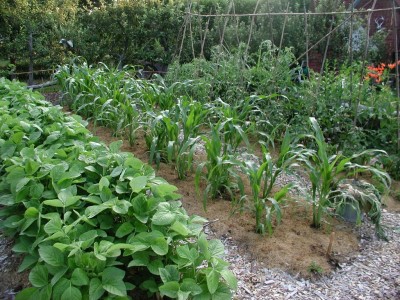 So I sighted out 2 rows in the bed and every 2 ft. in each row yanked out a clump of greenery to make space for a clump – a "hill" (cluster) of 8 seeds – of sweet corn. Once those corn seeds sprout, I'll thin the seedlings out to the best 4 plants. Once those "best 4 plants" start growing strongly, the salad fixings between them will be well past their prime and I'll just pull them out, leaving the corn to thrive alone in the bed.
All sweet corns are not created equal, and planting sweet corn lets me choose which varieties to grow. I'm partial to old-fashioned sweet corn. It's not nearly as sweet as modern supersweets but has a rich, corny flavor. My favorite variety, Golden Bantam, was the standard of excellence for sweet corn a hundred years ago.
Not everyone is a fan of Golden Bantam today; my friend Kit says it tastes like "horse corn." Still growing your own corn lets you seek out and grow whatever variety you like best.
David Austin (http://www.davidaustinroses.com/american/advanced.asp), rose breeder extraordinaire, has done it again, with Strawberry Hill rose. Two plants of this variety went in last spring near two south-facing, brick walls. One of them, the one in more sun, is now drenched in soft, pink blooms. As with many of Mr. Austin's roses, the flowers have the shape of old-fashioned, cottage garden roses and the bushes are full bodied and robust. I was a little disappointed in the lightness of the fragrance, "fine myrrh" for this variety. But "every rose (and even Strawberry Hill) has its thorns." Everything else about the bush makes it a winner.
https://leereich.com/wp-content/uploads/2011/06/Kiwiberry-2BOrganics1.jpg
680
1024
Lee A. Reich
https://leereich.com/wp-content/uploads/2022/12/header-home-link-247x54-2.png
Lee A. Reich
2011-06-24 15:06:00
2021-06-20 14:55:13
[kiwiberry, corn 3, D. Austin rose]