(locust, gates, corn planting)
May 10th, an exquisite day with a slight breeze, temperatures in the 70s, and a limpid blue sky matching the blue on the backs of the resident pair of male bluebirds flitting about. What a day to be in the garden. So how come I'm not there? Because I'm building garden gates.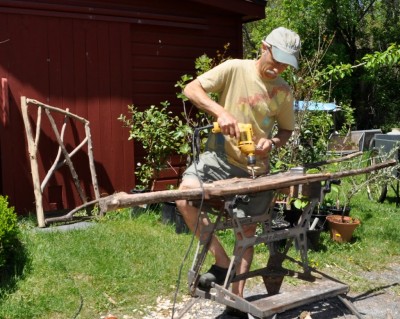 Having recently re-built the arbored gateways leading into and out of one of my vegetable gardens, building of gates themselves was the next order of business. Or, rather, has been for the past month or so. The original arbors and gates were cedar, everyone's go-to wood for rustic garden structures. I hand cut and hand carried all the cedar out of the woods for those original arbors and gates, and fashioned them into what I thought were quite attractive structures – until they rotted.
The new arbors and gates are of black locust, a dense wood that vies with c
ommercial pressure-treated wood for longevity. I grew most of the posts myself, in my miniature woodlot that's about 50 feet long by about 15 feet wide. There, locust saplings swell up to the needed 4 to 6 inch diameter posts in 12 years. New sprouts develop at the base of cut stumps and from root suckers so the mini-woodlot offers an ongoing supply of locust posts. (This year's construction necessitated supplementing my woodlot's production with wood from my friend Bill, who has a
bona fide
forest of black locust trees in Gardiner and sells locust posts.)
So, yes, it would have been a nice day to have been in the garden. But it was also a nice day to be building garden gates. As with so many things in gardening, building the gates provided a satisfying commingling of art and function. One gate down, 3 to go.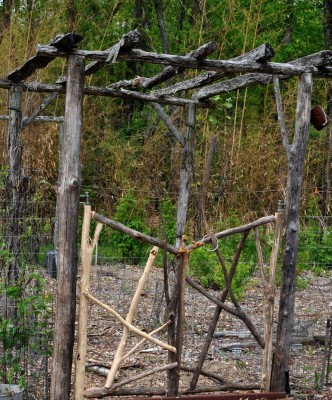 Dead or living, black locust is among my favorite trees. One other endearing feature of dead locust is its enormous heat output when burned. There are few other woods that provide longer and more warmth in the woodstove than black locust.
The living tree has a deeply furrowed bark and craggy form that reminds me of the trees along the yellow brick road that grabbed Dorothy on her way to Oz. In a couple of weeks, black locust branches will be dripping with chains of pale, blue flowers looking something like those of wisteria but more subdued. The flowers emanate a sweet fragrance that can be enjoyed from even a couple of hundred feet distance.
Another endearing quality of black locust is that the living tree improves the soil. It's a legume, just like peas and beans, and like other legumes harbors a symbiotic bacterium in its roots that takes nitrogen from the air and puts it into a form on which plants can feed.
Black locust has the distinction of being classified as a "native invasive" plant, a tricky (goofy?) classification that's not immediately clear. The tree is truly native to a small area in southeastern U.S. from which it has naturally spread.
As I wrote above, "new sprouts develop at the base of cut stumps and from root suckers," Black locust also sometimes makes new plants from fallen seeds. I welcome this invader.
I did take a break from gate-building to get into the garden. I had to because today is the day for my first planting of corn. We still have a week or two of possible frost, which shouldn't hurt the planting. Corn is a grass, with its growing point sheltered beneath the ground, ready to push up new leaves even if they suffer cold injury above ground. The only requisite for planting is sufficiently warm soil, 55° and above, to promote germination rather than rotting.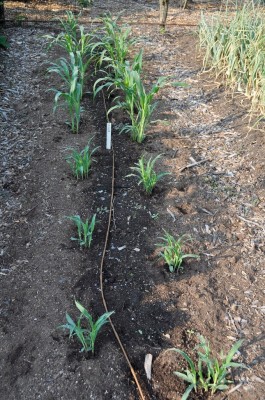 This year's plantings, like those of past years, is Golden Bantam sweet corn in one vegetable garden and Pink Pearl and Dutch Butter popcorn in the other. I isolate these plantings to prevent cross-pollination from making the sweet corn less sweet or the popcorn less poppable.
Into each 3 foot wide bed goes two rows of hills ("hills" as in "stations," not mounds), with 18 inches between hills in the row. I drop 8 seeds into each hole, water, and, with my foot, push the soil back into the hole and firm it with my heel. Hills provide closeness for corn mating and withstand winds better than wider spaced individual plants. Once up and growing strongly, the seedlings get thinned to the sturdiest 4 plants per hill.
https://leereich.com/wp-content/uploads/2011/05/gate-2Bbuilding1.jpg
817
1024
Lee A. Reich
https://leereich.com/wp-content/uploads/2022/12/header-home-link-247x54-2.png
Lee A. Reich
2011-05-14 09:19:00
2021-05-09 16:26:45
(locust, gates, corn planting)