[grapes, hornets, bibi mazoon]

Hot and dry — what great summer weather we've had for grapes. Every morning for the past few weeks I've gone out and picked bunches for fresh eating, and I'll continue to do so for weeks to come. The bunches aren't those of just any old varieties; they are varieties chosen from among the 5,000 or so existing grape varieties.

Well, not really. I couldn't choose from among all 5,000 varieties because many varieties would not grow here. The grapes that grow best here are those derived from fox grapes (Vitis labrusca) and other species native to this part of the world. Concord is the archetype fox grape, with a slip skin, a jelly-like flesh, and that distinctive, foxy flavor. Muscadine grapes (V. rotundifolia) are native to the Southeast, so aren't hardy here. European wine grapes (Vitis vinifera) also can't stand up to our winter cold, and if that doesn't do them in, grape diseases (such as black rot) and insects (such as phylloxera, as bad as it sounds) found in the Northeast do.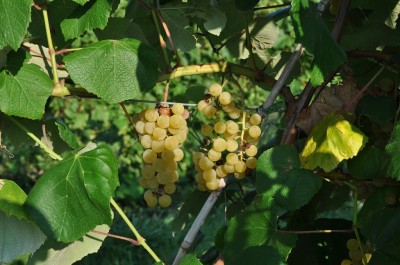 Still, breeding and selection have resulted in plenty of grape varieties adapted here and everywhere, and, over the years, I've planted some of the best candidates, ripping out any that didn't make the grade and planting new ones. Many of my favorites come from the amateur breeding work of Minnesota dairy farmer Elmer Swenson: Edelweiss (very foxy, and pictured at right); Swenson's Red (crunchy, sweet); Swenson's White; and Brianna. My garden is in a cold spot, so my Vanessa vine froze back this year, but this variety, which also happens to be seedless, is so delectable and beautiful, that I have the new sprouts in training again for, hopefully, return engagements. Campbell's Early is similar to Concord, but much earlier, with robust leaves, stems, berry clusters, and flavor. And finally, Alden is a favorite for its sweet flavor and meaty texture. Just about all these varieties have some amount of European wine grape in their predominantly fox grape heritage.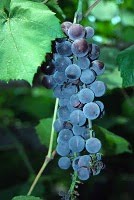 This year was the last chance I gave Duchess and Winchell grapes. Both are reasonably good but Duchess died back this winter, and its new sprouts are not going to be back in training, Winchell berries are too small with seeds too large. Their space along my grape trellis could be better used by some better grapes.
I'm looking forward to next year, when some newer varieties should come into bearing. I have high hopes for Mars, Somerset Seedless, New York Muscat, and Reliance, and am hoping for a similar hot, dry, grape-friendly summer.
******************************************
Where there are grapes, there are bees, and bald-faced hornets have been having a grand old time with the grapes this summer. Every time I reach into the foliage to pick a bunch I'm also expecting to get stung. So I was relieved to discover yet another use for one of my pruning tools, the ARS Rose Pruner with Branch Grip.
I am generally a big fan of ARS pruners, both for their design and for the quality of their materials and workmanship. Their Rose Pruner with Branch Grip has a 2-foot-long handle that's useful for reaching into a bed for a flowering stem — even if its not a rose — to snip it off and then hold on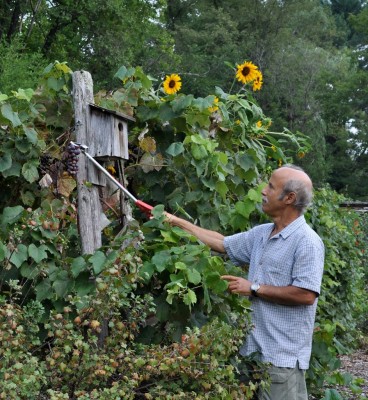 to it.
That tool is, I've discovered, just what I need to pick and hold bunches of grapes without fear of getting stung. An added benefit is that I can more easily pick off bunches buried deep within the foliage as well as some of those on my arbor for which I would otherwise need a ladder.
*****************************************
The hot, dry weather this summer has also been kind to plants other than grapes. One recipient of this heavenly beneficence has been Bibi Mazoon, a modern rose with old fashioned charm.
Bibi Mazoon has sat on the north side of the rustic arbor entry to my vegetable garden for over a decade and, in all honesty, hasn't done much. Some years she hasn't bloomed at all. Other years she coughed up perhaps 2 or 3 blooms.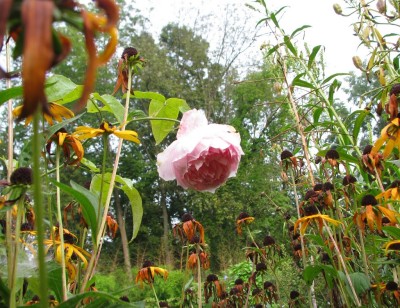 I've kept Bibi Mazoon around because every bloom that does appear is so glorious. Each bud expands into a ball of petals that slowly unravels into a loose, open blossom in a soft shade of pink. The aroma is pure rose, leaving nothing olfactory to be desired. (I also keep Bibi because I subsequently planted a polyantha rose right against her, so even if Bibi does nothing, the polyantha fills the space with its abundant small leaves and pink blossoms.)
This week, 3 tall shoots of Bibi Mazoon reared their flowering heads above the polyantha rose. I might use my ARS Rose Pruner with Branch Grip to pluck off one of those blossoms for a vase indoors.
https://leereich.com/wp-content/uploads/2022/12/header-home-link-247x54-2.png
0
0
Lee A. Reich
https://leereich.com/wp-content/uploads/2022/12/header-home-link-247x54-2.png
Lee A. Reich
2010-09-24 16:01:00
2021-09-07 11:48:03
[grapes, hornets, bibi mazoon]