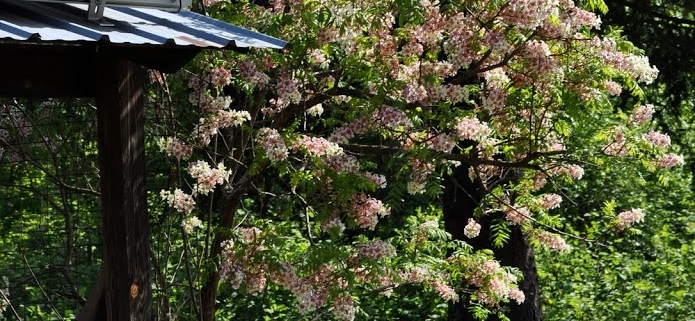 (xanthocerus, plant corn, houseplants out)
With blossoms spent on forsythias, lilacs, fruit trees, and clove currants, spring's flamboyant flower show had subsided – or so I thought. Pulling into my driveway, I was pleasantly startled by the profusion of orchid-like blossoms on the Chinese yellowhorn tree. And I let out an audible "Wow" as three fat, red blossoms, each the size of a dinner plate, stared back at me from my tree peony as I stepped onto my terrace.
Both plants originate in Asia. Both plants are easy to grow. Both plants have an unfortunate short bloom period which, if this heat keeps up, will be even shorter than usual. Fortunately, both plants also are attractive, though more sedately, even after their blossoms fade.
The tree peonies have such a weird growth habit. I had read that they were very slow to grow so was quite pleased, years ago, when each of the branches on my new plant extended its reach more than a foot by the end of its first growing season. Tree peony is a small shrub; at that rate mine would be full size within a very few years. Or so I imagined.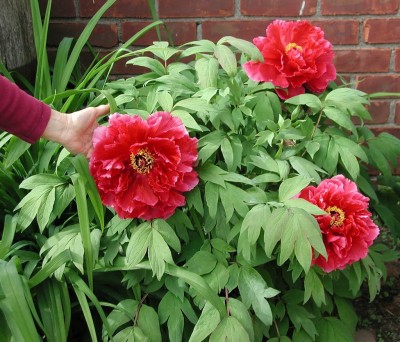 The tree peony still grows that much every year. But every year many stems also die back about a foot, more following cold winters. No matter, though, because every May giant silky, red flowers unfold from the remaining fat buds along the stem.
I originally planted Chinese yellowhorn not for its flowers but the fruits that follow the flowers. Each fruit is a dry capsule that later in summer starts to split open to reveal within a clutch of shiny, brown, macadamia-sized nuts. The edible nuts were billed as having macadamia-like flavor also. Not true. In fact, the nuts don't even taste good to me.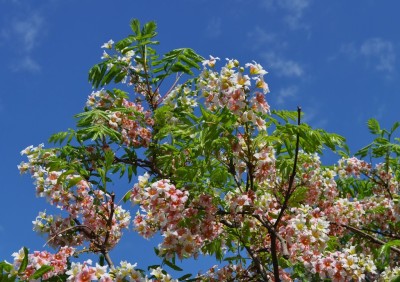 Still, those blossoms make yellowhorn well worth growing. And after the blossoms fade, this small tree is adorned with shiny, lacy leaves. Much like the tree peony, this plant grows many new stems each year, and many of the stems die back, not necessarily from winter cold but because they're seemingly deciduous. I tidied the tree up last week by pruning off all the dead stems.
In keeping with blossoms on other plants around the garden, the tree peony and yellowhorn blossoms have showed up almost two weeks earlier this year than in most previous years.
——————————————–
Gardening requires a lot of rational actions. You shouldn't for instance, plant out tomatoes just because one day in April, or even a few days in April, are exceptionally warm. So I rely on calendar dates rather than daily weather for when to plant various seeds and transplants. I've garnered these dates learning how much cold plants tolerate and how warm temperatures develop, averaged over the years, in spring.
This year I may not be able to restrain myself. It's hard to imagine that temperatures could – should, in fact – plummet below freezing at least one night sometime in the couple of weeks. I ignored that "should" and today moved houseplants outdoors and sowed seeds of sweet corn.
Why the rush? First of all, houseplants enjoy growing outdoors more than growing indoors. Outside, breezes rustling leaves and stems make for stronger, stockier growth and rain showering the leaves washes off from them a winter's accumulation of dirt and grime. After a winter indoors, the plants do need to acclimate to these conditions, which is why they start their outdoor vacation on the terrace on the north side of the house, which blocks wind and, for part of the day, sunlight.
I also urged the plants outdoors because populations of aphid and scale insects were outgrowing the appetites of the ladybugs crawling up and down the stems. Outside, I can spritz the plants down to knock off pests and spray soap or summer oil to kill them without worrying about getting spray or oil on windows, walls, or furniture.
As for the sweet corn, kinky as it sounds, I planted early because I'm anxious to sink my teeth into a freshly picked ear.
https://leereich.com/wp-content/uploads/2010/05/Xanthocerus-tree-at-end-of-driveway.jpg
1024
695
Lee A. Reich
https://leereich.com/wp-content/uploads/2022/12/header-home-link-247x54-2.png
Lee A. Reich
2010-05-21 04:23:00
2019-05-06 08:14:28
(xanthocerus, plant corn, houseplants out)