(good king henry, black walnut, spruce pruning)
One thing that I like about gardening is that you get so much for your efforts; that said, it's sometimes nice to get something for no effort. And that's one thing I like about Good King Henry, a vegetable much like spinach.
I've grown Good King Henry, which few people know or grow, for over 20 years. I hardly grow it, though. It's a perennial. I planted it from seed in a back corner of my garden and it's come back reliably year after year. It's a close relative of the weed lamb's-quarters (both in genus Chenopodium) so I was afraid it might spread and threaten takeover. But it's done nothing more than reach out a little here and there. The only care the planting has needed is every few years my digging out whatever plants grow too boldly errant.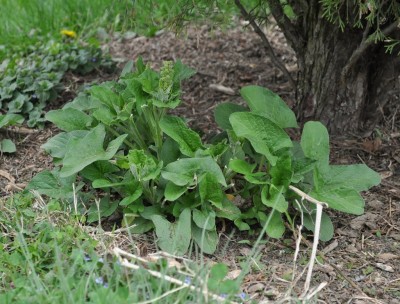 More than "like spinach," Good King Henry is close kin with spinach (Good King henry, spinach, and lamb's-quarters are in the Goosefoot, or Chenopodiaceae, family). Good King Henry makes a tasty cooked, green leafy vegetable this time of year. Seed stalks poke up from the clumps of leaves and I've read, but never tried, of people cooking and eating those stalks like asparagus. Not that they would taste like asparagus, I expect, just that it's another shoot to cook, just like asparagus.
One other thing that I especially like about Good King Henry is its name, both its common name and its botanical name: Chenopodium Bonus-Henricus.
—————————————–
About 50 feet from my south facing deck is a Norway spruce. That spruce could tower to 60 or 70 or more feet in height, blocking sunlight, and especially winter sunlight, from the deck and associated glass doors. But it doesn't, even though that tree is at least 30 years old.
This Norway spruce, at the ripe old age of 30 plus years, remains a manageable 15 feet in height. It does so because every spring I shear back all its branches –no easy task, but one that has been made easier because of a few good tools.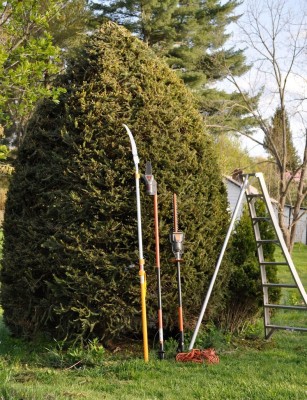 First is my ladder, an orchard ladder with 3 legs that make it very stable. Next is a hedge shears, but not your ordinary hedge shears. This hedge shears (made by Remington) sits on the end of a pole to extend my reach by about 6 more feet. Shaping with the hedge shears gives the tree a fat, well-fed appearance. Done just as stems are putting forth new growth (now), shearing results in dense branching.
Still, occasional shoots escape me, especially near the difficult-to-reach top of the plant. Those shoots commonly thicken quickly and beyond the capabilities of the shear. Such shoots call for the next tool (also by Remington), a small electric chain saw, similarly on the end of a pole.
Some of those shoots are not easily accessible with the pole chain saw, in which case I get out the final tool, a pole saw, which is basically a hand pruning saw on the end of a pole. This Silky brand saw has a high quality, 3-edged blade sitting atop a pole that can extend as much as 12 feet.
Near the top of the tree, some mangling of branches occurs. No matter; no one can see them. My reminder to keep pruning that tree is my other Norway spruce, near the road in the front of my yard. That tree towers to about 70 feet in height.
———————————————-
There are black walnuts and then there are black walnuts. A lot of people neither know nor care about black walnuts. I value them for their dappled shade, their rich, brown wood, and the distinctive, delicious flavor of the nuts.
How nice that a tree so valued (by me and numerous others) grows all over the place. I could pick out a couple of dozen wild trees within a quarter-mile of my home. I'm lucky enough to have on my property 2 bearing trees from which I harvest the nuts.
But why write of black walnuts now, when the trees have hardly leafed out and the nuts are months into the future? Because I recently received from my friend Bill MacKentley (of St. Lawrence Nurseries in Potsdam, NY) some scions – young stems, that is – of named varieties of black walnut. Named varieties are selected for superior qualities as compared to the run-of-the-mill seedling trees that pop up here and there.
To make new trees of named varieties, they have to be cloned, by grafting in the case of black walnut. Squirrels have been planting black walnuts all over the place so I have plenty of rootstocks on which to graft those scions that Bill sent me. I used a simple whip graft to join rootstock to scion, then dug them up, put them in the greenhouse where the warmth will speed wound healing, and after a couple of weeks I'll plant them back outside.
I'm not sure what I'm going to do with the dozen or so trees I made but if the grafts take and the trees thrive I'll eventually be cracking out especially large pieces of tasty nutmeats from Centennial and Putney varieties of black walnut trees.
——————————-
It's not to late to start or improve your vegetable garden. I will be holding a workshop, VEGETABLE GARDENING 101, at my garden 2:30-5:30 pm on May 22, covering where, when, what, and how to plant, how to nurture the soil, timely harvest, and more. The cost is $35 paid before 5/18, $40 thereafter. Space is limited, so pre-registration is necessary. Email me for more information.
https://leereich.com/wp-content/uploads/2010/05/chenopodium-bonus-henricus.jpg
780
1024
Lee A. Reich
https://leereich.com/wp-content/uploads/2022/12/header-home-link-247x54-2.png
Lee A. Reich
2010-05-07 12:09:00
2019-05-06 08:12:50
(good king henry, black walnut, spruce pruning)