[ducks, damping off, sprouter]
You'd think my chickens and ducks would be more thankful. Ratty, old straw bedding and manure have now been replace by fresh, new straw. But no, the chickens were nonchalant as usual, hardly noticing my work. And the ducks decided to spend the night out – not a wise choice, but then ducks aren't know for their intelligence. The drake wouldn't know about the housekeeping anyway because he has chosen or been directed to keep out of the house nights since the female ducks began laying a few weeks ago. He sits nearby from dusk till dawn.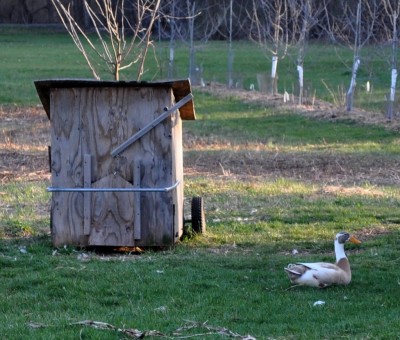 Cleaning out the chicken and duck house a few times a year is little work compared to what the poultry offer in return. The chickens spend all day scratching and pecking for insects and whatever else they find in the lawn and field; the ducks dine by scooping and nibbling. All that foodstuff, along with the few grains of cracked corn I scatter in the poultry houses each evening to let the birds know where home is, get processed into the tastiest eggs I've ever eaten, with yolks a deep, rich, orange color. I credit my garden's relative lack of slug problems to the chicken and ducks' constant patrolling of the grounds. And the poultry are like moving lawn ornaments.
—————————–
A look in the greenhouse today brought back some not-so-fond memories of my first garden. The memory actually pre-dates my first garden by a few weeks, to the raising of the first seedlings indoors.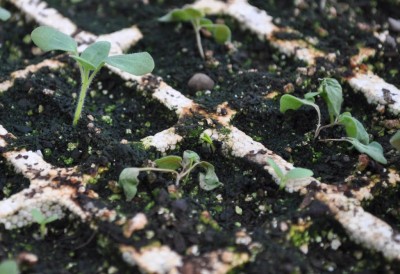 I then lived in a motel whose rooms had been converted into (very) small apartments. On some small shelves in my very small, dark kitchen I lined up Jiffy-7 peat pellets into which I had sown various seeds.
The seeds sprouted, then toppled over, dead – a brutal introduction to gardening and damping-off disease. It's a wonder I didn't give up gardening right then and there.
Investigation revealed that damping-disease is caused by a few fungi that are ubiquitous and get the upper hand when soils are too wet, when temperatures aren't optimum for plant growth, when light is poor, and/or when nitrogen levels are excessive. Chemicals, of course, can offer control, as can sterilized potting mixes, although healthy soils and mixes house natural antagonists to damping-off fungi. By paying careful attention to moisture, temperatures, light, and nitrogen, I have hardly ever seen damping-off since that ill-fated garden beginning.
Except a couple of days ago, when I noticed a number of toppled snapdragon seedlings in the greenhouse. Too many weeds had been sprouting in my potting mix, so I had microwaved the soil and compost that went into that mix. But temperatures that soar too high can kill off the fungi that fend off damping-off fungi. High temperatures also cause a release of excessive nitrogen. In retrospect, I had created a recipe for disaster.
From now on, I'll go back to not sterilizing the soil or compost in my potting mixes, or else paying very careful attention to "cooking" temperature (no higher than 180 degrees for 10 minutes). Careful attention to watering may still save most of those snapdragons.
———————————–
Damping-off disease can be more insidious than I just described, attacking seeds even before they sprout. And that's what I thought might be happening to my pepper seeds because, three weeks after sowing, some varieties still had not sprouted. Then again, some varieties had.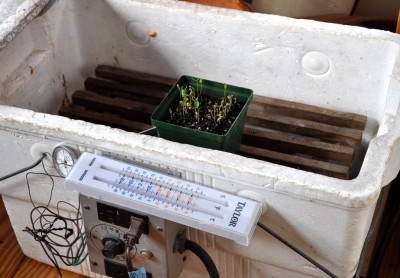 I was determined to determine whether the fault was with the seed or with the soil mix. So I re-sowed, this time putting the flowerpot of seeds and potting mix into my home-made incubator, which also, incidentally, gets a good rise out of bread dough. The temperature set at 80 degrees Fahrenheit was right near pepper's optimum germination temperature of 85 degrees. Under such conditions, I expected the seeds to practically jump right out of the flower pot, but no, after days and days, the potting mix's surface remained a desert.
This morning, finally, the seeds did practically pop up through the surface, and all together.
Good thing they did, because those seeds about which I had my doubts were of Sweet Italia peppers. Sweet Italia, a variety I've grown for many years from seeds I save each previous year, reliably yields oodles of tasty red peppers relatively early in the season.
Oh, the Sweet Italia seeds in the greenhouse? By chance, they also happened to finally sprout today. The warming mat on which they sit is at about 70 degrees Fahrenheit, still within the germination range peppers need, but further from their optimum temperature.
https://leereich.com/wp-content/uploads/2010/04/duck-and-house.jpg
871
1024
Lee A. Reich
https://leereich.com/wp-content/uploads/2022/12/header-home-link-247x54-2.png
Lee A. Reich
2010-04-16 10:43:00
2021-04-12 15:00:08
[ducks, damping off, sprouter]