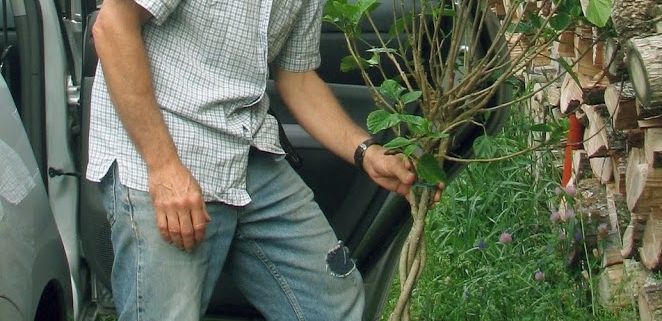 [hibiscus tree find, doyenne de juillet, MICROWAVE SOIL]
Smith & Hawkens' loss is my gain. That's Smith & Hawkens, the upscale gardening store that sells . . . actually, I'm not exactly sure just what they do sell. They used to sell some very high quality, or at least very expensive, gardening tools, such as stainless steel digging forks and spades that were very decorative on garage walls even if never used. They also used to publish some excellent gardening books, such as Carolyn Mayle's 100 Heirloom Tomatoes for the American Garden and Elvin McDonald's 100 Orchids for the American Garden. And then they sold gardening clothes. And then they sold furniture for the garden. And then they sold "flaming pots" for decorating your terrace.
Which is why I ended up poking my head in at a Smith & Hawkens retail store last weekend. Smith & Hawkens is going out of business and signs proclaimed that everything was discounted by 25 to 30%. No, I didn't return home with a fire pot for my terrace. My sole purchase was 4 packets of "Renées Garden" seeds for a total of $6.13.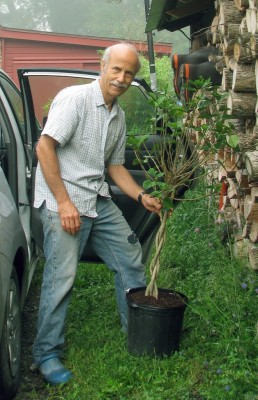 The real find, though, was a tree-form hibiscus with a braided trunk, an almost leafless specimen spotted by my wife as it was being walked out to the dumpster by an S & H employee. I retrieved the plant, noted its dearth of leaves and thirsty state, and walked it to our car for the trip to its new home.
Repotting and timely watering will, I am confident, bring that hibiscus back to its former glory. As for S & H's fate, perhaps it was the economy, perhaps they wandered too far afield.
***********************************
She really is the doyen, or most respected member, the dean, of the group. I refer to Doyenné de Juillet pear, also known as Summer Doyonné, and the group of which she is dean is, of course, July (Juillet, in French) pears. I picked over my tree just after the middle of the July and the fruit should be ready to ripen when I get it out of the refrigerator, soon.
(European-type pears, such as Summer Doyonné, ripen from the inside out, so if picked when fully ripe, they taste "sleepy" inside; they taste best if picked fully mature then allowed to finally ripen off the tree, preferably at cool temperatures. A short cold period gets ripening started.)
As described in U. P. Hedrick's 1921 classic The Pears of New York, Doyonné de Juillet pears are "extremely early and highly flavored . . . borne in prodigious quantities . . . small . . . unattractive . . . do not keep well . . . as free as most of its orchard associates from blight." All of which makes it a good backyard variety but an awful commercial variety. Mr. Hedrick did go on to say that the quality is variable, which is why I picked all the fruits and whisked them into the refrigerator as soon as I saw the first one on the ground.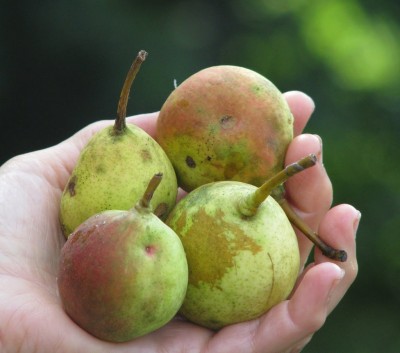 This pear is perhaps the Doyonné de Juillet because it's the only pear that ripens in July. Mine haven't been particularly tasty. I still grow it, in part, for its history: It represents the handiwork of Belgian plantsman Jean-Baptiste Van Mons, who lived 200 years ago and was the most prolific pear breeder known. Van Mons was responsible for the now familiar pear varieties Bosc and d'Anjou. Doyonné de Juillet originated around 1800.
****************************************
**************************************************
https://leereich.com/wp-content/uploads/2009/08/Lee-with-braided-hibiscus.jpg
1024
662
Lee A. Reich
https://leereich.com/wp-content/uploads/2022/12/header-home-link-247x54-2.png
Lee A. Reich
2009-08-14 07:30:00
2020-07-27 14:55:15
[hibiscus tree find, doyenne de juillet, MICROWAVE SOIL]